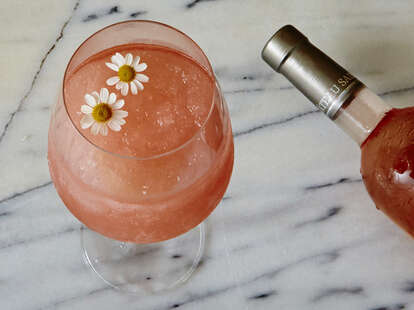 Matthew Kelly / Supercall
Matthew Kelly / Supercall
While the song of the summer has yet to be determined (unfortunately it will probably be something by Rae Sremmurd), the boozy drink of the summer is pretty much a lock: frosé. And while plenty of bars are cashing in on the trend, it turns out this delectable wine cocktail is a breeze to whip up in the air-conditioned confines of your own home. All the recipes currently on the internet require a blender, ice trays and way more work than one should ever have to put into a summer drink. To simplify things, we took inspiration from our boozy baggie slushie recipes, which don't require a blender. With fresh berry syrup, dry vermouth and rosé wine, this frosé recipe is big on flavor and light on the prep work. Just how summer should be.
To retain more flavor and that vivaciously pink color, choose a full-bodied, darker hued rosé made from pinot noir or gamay grapes. This recipe is also good for four to six servings.
Frosé
INSTRUCTIONS
Step one
Add rosé, vermouth and berry-infused syrup to a gallon ziplock bag.
Step two
Gently push the air from the bag and seal. Shake the bag to mix thoroughly, holding the top closed with your hand as you shake.
Step three
Freeze the mixture until you get a slushy consistency (about 6 hours).
Step four
Pour into a wine glass and top with an edible flower.
Contributed by Supercall