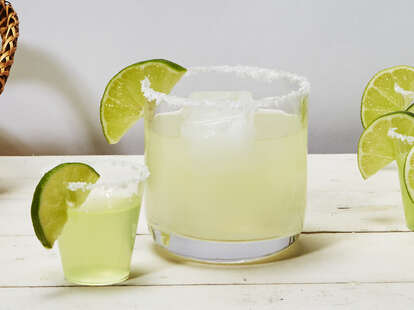 If you're into the sweet-salty-tart magic of Margaritas and are looking for a way to turn up your next party, these jiggly Jello shots are the answer. Like many of its classic cocktails-turned-jiggler brethren, the Margarita is simple to make and perfectly mimics its liquid counterpart. To fully capture the essence of this cocktail in a wiggly, jiggly shot, all you need to do is adjust the measurements of the tequila, lime juice and simple syrup and add a packet of unflavored gelatin to the mix (yes, it's really that easy). The result is as flavorful and easy-going as the original. The only downside is waiting a few hours for the gelatin to set—good thing you have all the ingredients on hand to mix up a Margarita in the meantime.
Margarita Jello Shot
INGREDIENTS
.75 Cup

boiling water

.25 Cup

sugar

1 packet

unflavored gelatin

.25 Cup

lime juice

.5 Cup

blanco tequila

Salt rim and half a lime wheel
INSTRUCTIONS
Step one
Fully dissolve sugar and unflavored gelatin in boiling water.
Step two
Add lime juice and tequila and mix thoroughly.
Step three
Pour the mixture into plastic shot glasses and refrigerate until set, about 2.5 hours.
Step four
Before serving, rim the shot glasses with salt and garnish with half a lime wheel.
Contributed by Supercall