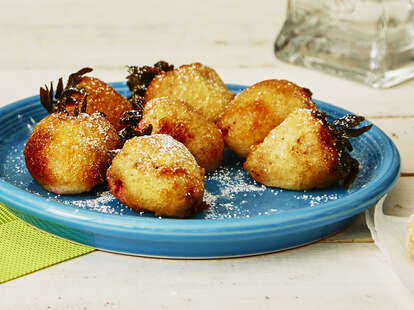 Matthew Kelly / Supercall
It might seem wrong to turn a frosty, frozen cocktail like the Strawberry Daiquiri into a hot and crispy, deep-fried snack, but after you try it, you'll agree that it's oh so right. Made with rum-soaked strawberries coated in pancake batter, the fluffy, buttery, fruity morsels are terrific as a brunch appetizer or for dessert on a warm summer evening. If you make the pancake batter from scratch, add a little maple syrup to the mix for a richer flavor.
Deep Fried Strawberry Daiquiri Shots
INGREDIENTS
2 cups

Strawberries

2 cups

White rum

2 cups

pancake batter

Vegetable oil

Powdered sugar
INSTRUCTIONS
Step one
Soak the strawberries in rum for at least an hour or until they reach the desired level of booziness.
Step two
After the strawberries are done soaking, pat them dry with a paper towel.
Step three
Add 2 inches of oil to a deep fryer or high-sided pan and heat to 350 degrees Fahrenheit.
Step four
Dip each strawberry in the pancake batter, doing your best to leave the green tops exposed. Shake off excess batter.
Step five
Gently add the battered strawberries to the hot oil and fry until they're golden on all sides.
Step six
Using a slotted spoon, remove strawberries and drain on a paper towel-lined plate. Repeat until all the strawberries are battered and fried.
Step seven
Dust the strawberries with powdered sugar and serve.
Contributed by Supercall