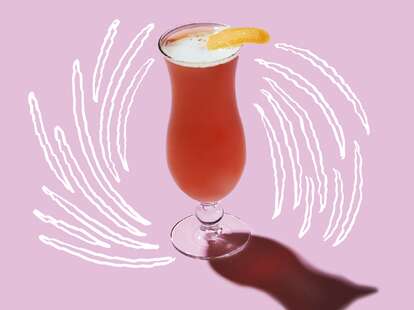 This refreshing beer-based cocktail marries a Bourbon Street staple (the Hurricane) with bartender Damon Boelte's refreshing Americano Perfecto, a mix of Campari, Dolin Rouge, Carpano Antica and pilsner. We swapped out Boelte's red vermouths for a rosé-based vermouth, and instead of using passion fruit as is traditional in a Hurricane, we opted for a salted guava syrup, which works wonders with the vermouth. This drink will wash over you like a salty-bittersweet wave, wreaking delicious havoc upon the shores of your palate.
Shandy Americano
INGREDIENTS
1.5 oz

Cocchi Rosa

0.25 oz

Campari

0.75 oz Guava Syrup
0.5 oz

Lemon

Lowlife Pilsner

Grapefruit Twist
INSTRUCTIONS
Step one
Pour the vermouth, Campari, guava syrup and lemon juice into a hurricane glass. Top with the beer.
Step two
Stir with a bar spoon to incorporate and garnish with a grapefruit twist.
Contributed by Supercall