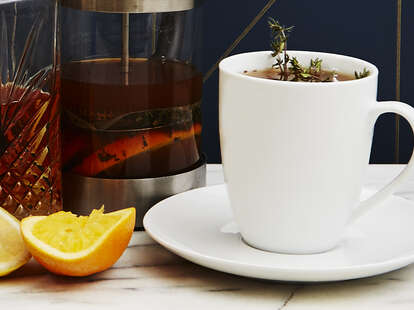 Matthew Kelly / Supercall
At Stoke in Charlotte, NC, this super-sized scotch cocktail is poured from a French press into a coffee cup. "So you can drink it at breakfast," Sean Potter, the restaurant's head of Eat and Drink, jokes. As the cocktail sits and steeps, the heavy, peaty scotch flavor dissipates, balanced by the herbaceous, savory thyme. Drink it how you like: Let it sit or plunge and pour right away. The choice is yours, as is the decision of whether or not to share it.
The Evolution
INGREDIENTS
3 oz

scotch

1 Scoop

Mint Tea

12 oz Lemon Iced Tea
2

Lemon

2

Orange

2 small sprigs

thyme
INSTRUCTIONS
Step one
Build ingredients in a French press. Pump press down and leave raised a quarter inch below liquid.
Step two
Let steep for one minute.
Step three
Press pump completely down when ready to serve, pour into a coffee cup and garnish with a sprig of thyme.
Contributed by Sean Potter