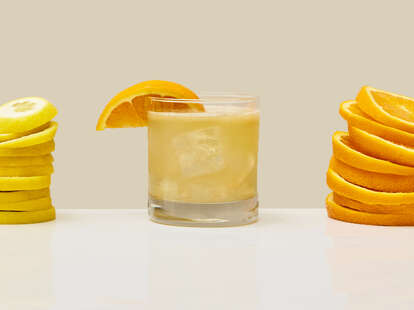 Marisa Chafetz / Supercall
Marisa Chafetz / Supercall
If Sylvester Stallone was to be reincarnated as a cocktail, he would be this drink. Also known as the Italian Stallion Margarita, this brazenly delicious libation adds a measure of amaretto to the mix. With a nutty sweetness and a bright, refreshing acidity, the drink bursts with flavor, sip after sip. Using a vanilla-rich reposado tequila as the base of the drink makes it even more tasty and downright crushable. But be careful because just like Stallone himself, this sour libation packs a serious punch.
When choosing a reposado tequila for the base of the drink, it is best to opt for one that has a heavier abundance of vanilla and toffee notes. Tequilas like Tapatio's Reposado or Cimarrón's Reposado not only have a bourbon-esque quality to them, they also have notes of white pepper and cinnamon, which pair perfectly with amaretto's custardy almond notes. For the measure of amaretto in the drink, it is best to use higher-quality bottlings. You want an amaretto that is sweet (but not too sweet), velvety in texture and seriously nutty. Lazzaroni has an almond cookie taste and a pleasantly viscous texture, while Disaronno and Luxardo are silky with an apricot nuttiness that is beautifully floral and fruity. Be sure to use fresh squeezed lemon juice. The vibrancy and acidity of the fresh juice will not just cut the sweetness of the amaretto, it will also elevate the inherent flavors in the tequila and bring balance to drink. Serve this as the dessert cocktail at your next dinner party, or simply mix one for yourself after a big spaghetti-filled meal.
Italian Margarita
INGREDIENTS
1 oz

Reposado Tequila

1 oz

Amaretto

0.75 oz

Lemon

Orange wedge
INSTRUCTIONS
Step three
Add fresh cubed ice to the glass and garnish with a slice of orange.
Contributed by Supercall