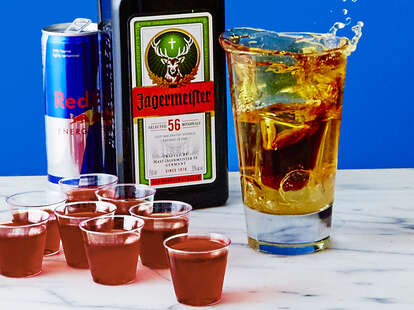 Matthew Kelly/Supercall
Matthew Kelly/Supercall
Whether you're partying in college or just want to party like you're in college, these Jäger Bomb Jello Shots are exactly what you're looking for. Made with a full can of Red Bull, they're not too boozy—but they still pack the punch of bittersweet Jäger. If it's your first time dancing with the 'meister (or just your first time in a while), don't worry; the sweet, black cherry Jell-O makes these shots a lot easier to stomach than your classic Jäger Bomb.
Jäger Bomb Jello Shots
INGREDIENTS
1 can

Red Bull

1 packet

Black Cherry Jell-O

.25 Cup

Jägermeister

.25 Cup

Vodka

.5 Cup

cold water
INSTRUCTIONS
Step one
Pour the Red Bull into a pot and heat on the stove. Pull it off the heat once you see the first bubble.
Step two
Dissolve the black cherry Jell-O into the warmed Red Bull, then slowly add the Jägermeister, water and vodka. Stir to combine.
Step three
Pour the mix into plastic cups, and chill until set—about two hours.
Contributed by Supercall