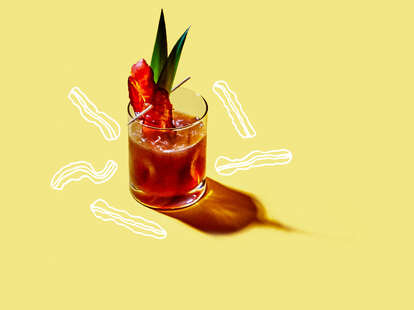 This funky take on a Jungle Bird mixes blackstrap rum with pineapple syrup, bittersweet rhubarb-based amaro and fresh, tart lime juice. Because no brunch is complete without bacon, it's finished off with a candied slice for good measure.
Jungle Pig
INGREDIENTS
2 oz

Blackstrap Rum

.75 oz

Pineapple Syrup

.75 oz

Amaro

.5 oz

Lime Juice

2

pineapple leaves

Bamboo toothpick, for garnish
INSTRUCTIONS
Step one
Add all ingredients except for the garnishes to a shaker tin.
Step two
Fill the tin with ice and shake.
Step four
Garnish with two pineapple leaves held together with a bamboo toothpick and a piece of candied bacon.
Contributed by Supercall