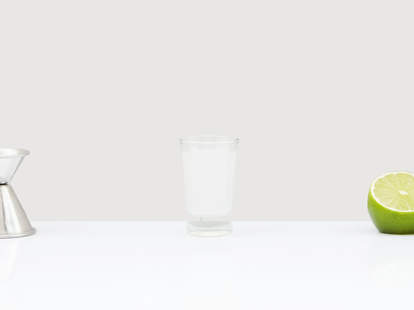 Matthew Kelly / Supercall
Named for its explosive effect on a drinker's state of sobriety, the Kamikaze was designed to get the party started—fast. A shooter made with equal part vodka, triple sec and lime juice, the shot goes down easy—no chaser required—so you can go from bar to dance floor in seconds flat (even quicker if you just decide to hop up and dance on the bar). If anyone in your party says they can't do shots, this is the shot to order.
While the classic mix of vodka, lime juice and triple sec is a surefire crowd pleaser, there are many ways to change up the Kamikaze if you're not feeling that particular combo during a night out. If you're a tequila fan, simply swap the vodka for blanco tequila to create a mini Margarita shooter. Flavored vodka—we recommend something with citrus, red fruits or spice—is also a fun way to throw additional depth of flavor into the mix. Or, if you love bright drinks just as much as the next spring breaker, substitute the triple sec for blue curaçao. Some folks even like to swap the vodka for Southern Comfort, creating a SoCo Kamikaze, which we find to be cloying. But to each his own.
Whatever you do, fresh lime juice is the key to making a great Kamikaze. If you use sweetened lime juice or the stuff that's been sitting in the bottle for months, the shooter is going to taste saccharine or astringent instead of pleasantly sweet and tart. When you make this shooter with a good-quality vodka, freshly squeezed juice and triple sec, it's a delicious, crowd-pleasing tipple that everyone is sure to enjoy.