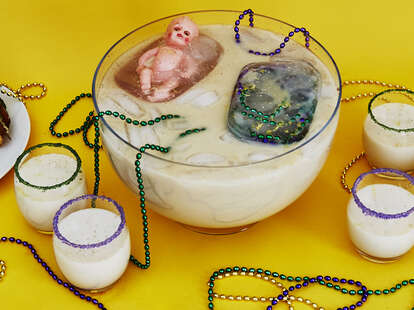 Matthew Kelly / Supercall
Mardi Gras might bring to mind beads, booze and another more NSFW B-word, but for those in the know, king cake is the real, well, king of the debaucherous holiday. For those unfamiliar with the classic Fat Tuesday dessert, king cake is a circular, buttery, brioche-style cake, glazed with a sweet icing and showered in purple, yellow and green sugar. According to lore, if a king cake is consumed too early before Mardi Gras, that year's festivities will be cursed with rain. An even more bizarre tradition is hiding a small baby figurine inside the cake. Whoever gets the baby in their slice
"gets" to make or buy next year's cake and host the annual party.
In honor of the traditional cake, we created this party-sized cocktail. Like the dessert, it's a creamy, cinnamon-spiced treat. Unlike the dessert, it's spiked with both rum and rye whiskey (two full bottles' worth). It even comes with a baby doll frozen in ice.
King Cake Punch
INGREDIENTS
1 750-ml bottle of

Dark Rum

1 750-ml bottle of

Rye Whiskey

2 6-oz cans lemonade
6 oz

water

Grated Nutmeg, for garnish

Grated Cinnamon, for garnish

Lemon Zest, for garnish

Baby doll, for garnish (optional)
INSTRUCTIONS
Step one
In a large tupperware, add a medium-sized plastic baby doll and fill with hot water. Place in freezer at least 24 hours prior to making your punch.
Step two
In a punch bowl combine Don's Mardi Gras Mix with the rum and whiskey. Mix thoroughly with a ladle.
Step three
Add the baby doll ice cube, then garnish the punch with freshly grated nutmeg, cinnamon and lemon zest.
Step four
Pour yellow, green and purple sugar on three separate plates. Juice two lemons on another plate. Dip the punch glasses in the lemon juice and then in the colored sugar to rim.
Step five
To serve, rim individual glasses with colored sugar, then ladle in punch.
Contributed by Supercall