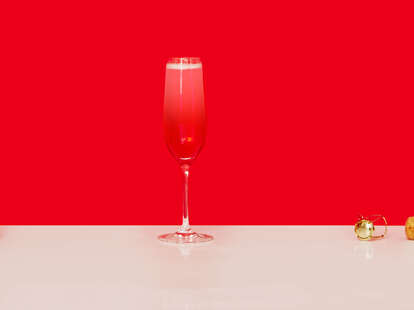 Felix Kir was an ordained priest, a resistance fighter during WWII, the mayor of Dijon from 1945 to 1968 and an über promoter of crème de cassis. He created both the Kir, made with white wine (traditionally Burgundy) and cassis, and the Kir Royale, which swaps the still wine for sparkling. Though the Kir is a simple cocktail, cassis, a black currant liqueur, gives the drink a dark depth of flavor—particularly if you are using a really good cassis like LeJay from Dijon, which is extra-complex thanks to the addition of black currant buds along with berries. (Fun fact: The cassis buds are also used in popular perfumes like Chanel No. 5.) Looking for the perfect aperitif? You just found it.
Kir Royale
INGREDIENTS
.25 oz

Crème de Cassis

Champagne
INSTRUCTIONS
Step one
Pour the cassis into a Champagne flute and top with sparkling wine of your choice.
Contributed by Supercall
Mix It Up!
Recommended Crème de Cassis: LeJay, Gabriel Boudier, Edmond Briottet