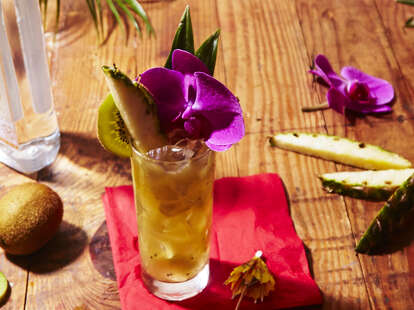 This rhum agricole and mango brandy swizzle is just one of many innovative tiki creations from Chicago's Three Dots and a Dash. It incorporates a refreshing, yet potent blend of tropical flavors including pineapple juice and kiwi, a relatively unusual cocktail ingredient. "I really appreciate when innovative bartenders incorporate a flavor or ingredient that is outside of the classic tiki palate while still respecting the essence of the classic recipe and presentation," says beverage director Kevin Beary.
Wiki Wiki
INGREDIENTS
1.5 oz

Rhum Agricole

.5 oz

Mango Brandy

1 oz

lime juice

1 oz

fresh pineapple juice

.5 oz

Petite Canne Cane Syrup

kiwi

garnish
INSTRUCTIONS
Step one
Muddle kiwi in a tiki mug or Collins glass.
Step two
Add all remaining ingredients, except garnish.
Step three
Insert swizzle stick, add crushed ice, and swizzle.
Step four
Garnish with a pineapple crescent, pineapple fronds, lime wheel, kiwi slice and orchid.
Contributed by Jeff Marini