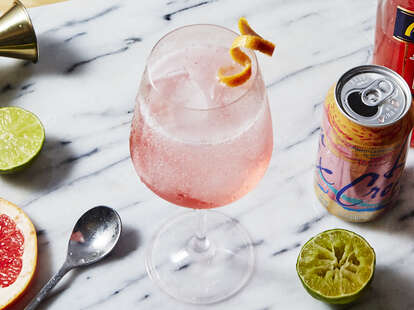 Matthew Kelly / Supercall
Let's be honest, La Croix's Pamplemousse is the brand's best flavor. It's thirst quenching, highly quaffable, bright and subtly bitter with big, juicy citrus notes. And of all the La Croix flavors, it pairs best with booze. Inspired by two of the best citrus-heavy cocktails—the classic low-ABV aperitif, the Aperol Spritz, and the grapefruit-heavy Paloma—this cocktail blends La Croix's grapefruity masterpiece with smoky mezcal, Aperol (the yin to grapefruit's yang), St-Germain for a kick of floral depth, fresh grapefruit and lime juice. One sip and you'll know that this is the boozy Pamplemousse spritz La Croix lovers have been waiting for.
Extreme Pamplemousse
INGREDIENTS
0.75 oz

Mezcal

0.75 oz

Aperol

0.5

St. Germain

0.5 oz

grapefruit juice

0.5 oz

Lime Juice

La Croix Pamplemousse

Grapefruit twist, for garnish
INSTRUCTIONS
Step one
Using a jigger, add the mezcal, Aperol, St-Germain, grapefruit juice and lime to a shaker tin with ice.
Step two
Step three
Using a Hawthorne strainer, strain the cocktail into a large wine glass filled with fresh ice.
Step four
Top the cocktail with La Croix Pamplemousse and stir with a bar spoon to incorporate.
Step five
Garnish with a grapefruit twist.
Contributed by Supercall