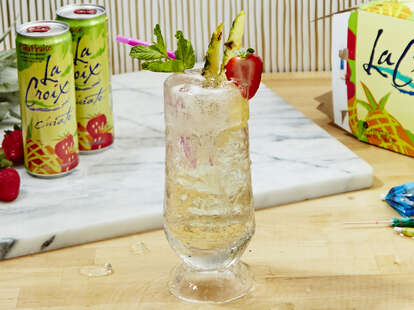 Matthew Kelly / Supercall
Boldly flavored, with tropical vibes galore, La Croix's pineapple-strawberry soda is ripe for summer cocktails. To up the tropical feels, we combined the raw funk of rhum agricole with the sweet vanilla flavors of Caribbean white rum. It's refreshing, juicy, and downright crushable. This effervescent tipple is perfect for luaus on the beach, sweat-inducing dance parties in the tropics, or an at-home remedy for when you need a mental vacation.
La Croix Tropicale
INGREDIENTS
3 oz

white rum

1 oz

Rhum

0.5 oz Strawberry syrup
0.5 oz

Pineapple Juice

0.25 oz

Lemon Juice

Piña Fraise La Croix

2 Pineapple spears, for garnish

Strawberry slice, for garnish

Fresh mint sprig, for garnish
INSTRUCTIONS
Step one
In a shaker tin, add both rums, the strawberry syrup and lemon and pineapple juice.
Step two
Add ice and shake.
Step three
Using a Hawthorne strainer, strain the cocktail into a tiki mug filled with fresh ice.
Step four
Top with Piña Fraise La Croix, and stir with a bar spoon to incorporate.
Step five
Garnish with a sprig of fresh mint, a slice of strawberry on the lip of the glass and two pineapple spears.
Contributed by Supercall