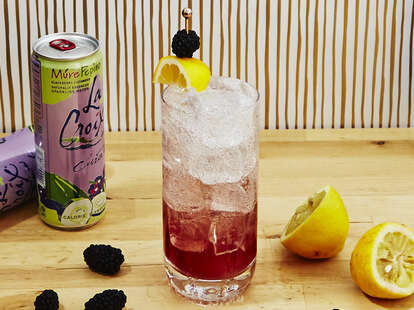 Matthew Kelly / Supercall
Inspired by the Bramble, this effervescent tipple gets its flavor and its spritely bubbles from a topper of La Croix Muré Pepino, an unsweetened blackberry cucumber soda. St. George Green Chile vodka acts as the drink's savory backbone—and gives it a kick of heat and spice. It's refreshingly light and tart, with a complex depth of green chile, raw green bell pepper, blackberry sweetness and the softness of cucumber. It's a gosh darn garden in a glass.
Spicy Blackberry-Cucumber Spritz
INGREDIENTS
2 oz

Green Chile Vodka

0.75 oz

Lemon Juice

0.5 oz

Crème de Mûre

Muré Pepino La Croix

Lemon wedge, for garnish

Blackberry, for garnish
INSTRUCTIONS
Step one
In a shaker tin, add the green chile vodka, crème de mûre and lemon juice.
Step two
Add ice and shake.
Step three
Using a Hawthorne strainer, strain the cocktail into a Collins glass filled with fresh ice.
Step four
Top the cocktail with Muré Pepino La Croix and stir to incorporate.
Step five
Garnish with a lemon wedge and a fresh blackberry speared on a toothpick.
Contributed by Supercall