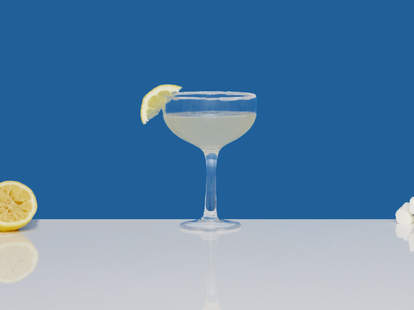 Matthew Kelly / Supercall
In the 1970s, bars began catering to a new clientele: single women. They crafted colorful, sugary, so-called "girly drinks" to attract women to the bar, hoping that the men would follow and create a lively, diverse nightlife scene. One such bar was the legendary (now sadly defunct) Henry Africa's in San Francisco—the world's first "fern bar," which was a slang term for preppy bars that catered to singles, typically decorated with ferns and Tiffany lamps. There, bartender Norman Jay Hobday created his own take on the girly drink trend: the Lemon Drop Martini. Made with crowd-pleasing vodka, orange liqueur, lemon juice and simple syrup, the original Lemon Drop Martini was a sweet-tart cocktail designed to taste like the namesake hard candy. Unfortunately, over the years, the easy-drinking vodka cocktail evolved into a syrupy, artificial mess, much like its fruity and pink little sister: the Cosmopolitan. By the 1990s, ordering one would get you a neon-colored shooter, with a side of sugar and a lemon wedge for chasing, instead of a refreshing coupe full of lemony elixir. The cocktail can be salvaged, though, with fresh lemon juice, high quality liquors and homemade simple syrup. Opt for a citrus-forward vodka like Ketel One, or even a citrus-flavored vodka like Absolut Citron, and a premium orange liqueur like Cointreau or Combier. But above all else, fresh lemon juice is absolutely non-negotiable. And don't forget the sugared rim, made by rimming the glass in lemon juice and white sugar to form a crystalline crust (the same technique used to make a Brandy Crusta and Sidecar). You might be drinking like a grown-up but that doesn't mean you can't have a little sugar once in a while.
INGREDIENTS
2 oz

vodka

.5 oz

Cointreau

1 oz

lemon juice

1 oz Simple syrup

sugar

lemon
INSTRUCTIONS
Step one
Rim a coupe glass with lemon juice and superfine sugar.
Step two
Add the citrus vodka, Cointreau, lemon juice and simple syrup to a shaker.
Step three
Add ice, shake and strain into the rimmed glass.
Step four
Garnish with a lemon wedge
Contributed by Supercall