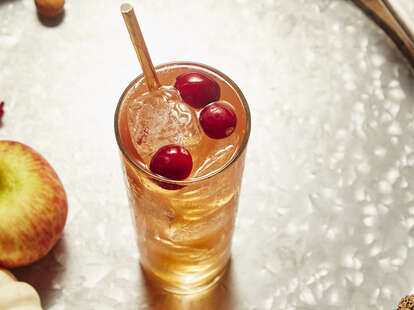 Matthew Kelly / Supercall
Low-ABV spirits like Campari and Aperol may be perfect for summery cocktails like Aperol Spritzes and Americanos, but there's a place for the bitter liqueurs on fall drink menus, too. "Because people often ask what complements aperitivo besides a Spritz, I created this cocktail," says Cassandra Womack, bartender at Bidwell Restaurant in Washington D.C. "It's very universal and has a unique finish, especially because it's made with apple cider." Whether you're crafting your own aperitivo hour or simply craving a new way to use your favorites, this cocktail is a crowd-pleaser.
Italian Apple
INGREDIENTS
2 oz

Aperol

1 oz

Lillet blanc

apple cider

cranberries
INSTRUCTIONS
Step one
Add Aperol and Lillet to a Collins glass with ice.
Step two
Top with apple cider and stir.
Step three
Garnish with fresh muddled cranberries.
Contributed by Cassandra Womack