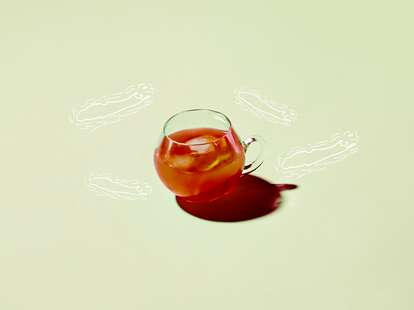 This super-sized version of a Long Island Ice Tea is big enough and powerful enough to satisfy 20 or more thirsty party guests. It's as easy to assemble as it is dangerous to drink—if you can pour a bottle, you can make this punch. The key to this behemoth is mountains of ice to help dilute it—and a wide selection of salty, starchy snacks to help guests soak it up.
Long Island Iced Tea Punch
INGREDIENTS
1 750-mL bottle

All Clear Spirits

1 750-mL bottle

White Rum

1 750-mL bottle

Gin

1 750-mL bottle

Vodka

0.5 bottle

Curacao

0.5 Cup

Lemon Juice

1 L

Coca-Cola
INSTRUCTIONS
Step one
Add a 1-2 trays of ice cubes to a punch bowl.
Step two
Add all ingredients except for the garnish to the punch bowl and stir to incorporate.
Step three
Garnish with lemon slices.
Contributed by Supercall