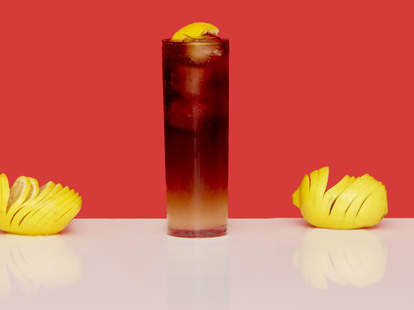 The recipe for a Long Island Iced Tea might read like a bartender's dare, but when made correctly, the college classic is a miracle of mixology. Reportedly based on a Prohibition-era cocktail called the Old Man Bishop (vodka, rum, whiskey, gin, tequila and maple syrup), the modern Long Island Iced Tea showed up sometime in the early 1970s. While its authorship is contested, Robert "Rosebud" Butt is the loudest defender of his claim to the cocktail, claiming that he invented the drink at the Oak Beach Inn for a cocktail competition. What we know for sure is that the Long Island Iced Tea is a drink, and that it's best when made with fresh lemon juice and Mexican Coke (for the real sugar).
One of the Long Island's best qualities is its adaptability. It can be scaled down to a half-sized drink that won't totally take over your night, or it can be scaled up to make a deliciously potent party punch. You can also experiment with spirits, using a gin that's soft on the juniper for a completely homogeneous drink or opting for for a powerful London Dry that will make itself known, even amongst all the other spirits. You can also try swapping out the white rum for grassy cachaca or even trading out the Coke (which is primarily just there for color) for a black tea syrup, as bartender Erik Trickett does at Holiday Cocktail Lounge in NYC. You can even use top shelf spirits and serve the cocktail up for a classy change. The possibilities, much like the amount of alcohol that goes into this drink, are plentiful.
INGREDIENTS
.75 oz

All Clear Spirits

.75 oz

Gin

.75 oz

White Rum

.75 oz

Blanco Tequila

1.5 oz

Triple Sec

.75 oz

Lemon Juice

2 oz

Cola
INSTRUCTIONS
Step one
In a highball glass, add spirits, lemon juice and cola, then fill with ice and stir to combine.
Step two
Garnish with a lemon wedge.
Contributed by Supercall