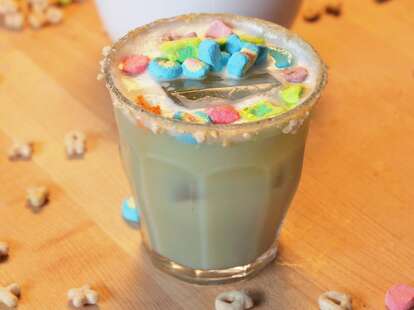 Marisa Chavetz / Supercall
Don't let that cereal milk go to waste—add some booze to it and make yourself a cocktail that's better than any pot of gold. A take on classic Milk Punch, this sweet and creamy drink is made with milk infused with Lucky Charms marshmallows, simple syrup infused with Lucky Charms cereal and a healthy dose of bourbon and dark rum. It's garnished with a handful of marshmallows for a cocktail that will bring you back to Saturday mornings parked in front of the TV watching whatever cartoon came on the air. Whip up a big batch for St. Patrick's Day or your next brunch.
Lucky Charms Cereal Milk Punch
INGREDIENTS
.5 Cup

Lucky Charms cereal

1 Cup

Lucky Charms marshmallows

1 Cup

MIlk

1 Cup

sugar

1 Cup

water

1.5 oz

bourbon

.5 oz

dark rum
INSTRUCTIONS
Step one
Place marshmallows in a bowl or measuring cup and top with milk. Let steep in the fridge for 10 minutes, then strain and reserve.
Step two
In a pot, add a half cup of Lucky Charms cereal (no marshmallows), one cup sugar and one cup water. Heat and stir until the sugar dissolves. Strain the syrup and reserve.
Step three
Place a handful of Lucky Charms cereal (no marshmallows) in a plastic bag. Seal and crush the cereal. Pour the syrup onto a saucer.
Step four
Pour some of the cereal simple syrup onto a separate saucer and roll the rim of a lowball glass in the syrup. Then, roll the rim in the crushed cereal.
Step five
In a mixing tin, add 2 oz of marshmallow milk, .5 oz cereal simple syrup, 1.5 oz bourbon and .5 oz dark rum.
Step six
Add ice and shake, then strain into the prepared lowball glass filled with fresh ice. Top with marshmallows and drink up. It's magically delicious!
Contributed by Supercall