Malibu Jello Shots
Get jiggly with it.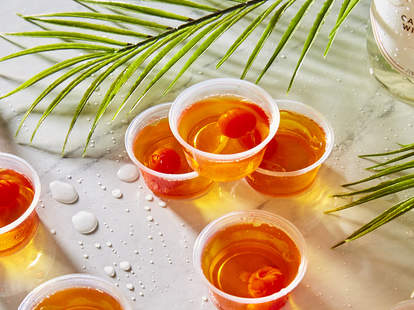 Photo by Marisa Chafetz for Thrillist
Turn up the beats and get ready for the ultimate party shot-tail: Malibu Jello Shots.Tossing back one of these jiggly shooters is like eating a boozy ray of sunshine—even in the dead of winter. Made with Malibu coconut rum and tropical flavored Jell-O—Island Pineapple Jell-O (available online) or Mango works best—this shot is the cocktail embodiment of beach days in the tropics or being 16 years old and trying Malibu for the first time. Either way, it's a good time.
Whether you use Island Pineapple Jell-O or Mango Jell-O is entirely up to you, but the flavor you pick will dramatically alter the how the shot comes out. Pineapple gives the Jello Shot a vibrant tartness and makes for a finished product that's more akin to a Piña Colada. Mango, on the other hand, makes for a sweet and creamy treat that coaxes out the forward coconut notes inside Malibu. You can't really go wrong—just pick which fruit you prefer.
To really take things over the top, add a stemmed maraschino cherry to the plastic shot glass before placing the mix in the fridge to set. The cherry not only buoys the fruitiness of the shot and stains the mix red, creating a beautiful, ombre, sunset effect, but it also makes for a handy handle to hold onto when snacking down on the tropical jigglers. Be sure to rinse the cherries after taking them out of the jar otherwise you will lose that gradient and get a completely orange Jello Shot.
INGREDIENTS
1 box

Jell-O

1 Cup

Water

0.5 Cup

Malibu

0.5 Cup

Water

Maraschino Cherry
INSTRUCTIONS
Step one
First, empty a jar of maraschino cherries into a colander. Rinse with cold water until the runoff is nearly clear. Set aside.
Step two
In a bowl, stir the Jell-O powder and boiling water together until all of the mix is dissolved.
Step three
Stir in the Malibu and cold water, and mix until thoroughly combined.
Step four
Add a single rinsed maraschino cherry to two-ounce plastic cups.
Step five
Pour the mix into the cups until they are three-quarters full.
Step six
Chill for at least two hours or until the mix is set.
Contributed by Supercall