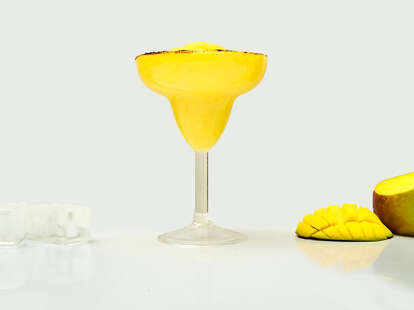 Marisa Chafetz / Supercall
This tropical libation is the ultimate fruit-flavored Margarita. Blended with fresh lime juice, agave and mango, this Mango Margarita is custardy, golden-hued and vibrantly delicious. While you can use frozen mango chunks (be sure to scale back on the ice if you do), this cocktail is best when made with fresh fruit, which will take it from good to spectacular. We especially like bright yellow Champagne mangos (aka Ataúlfo mangos, baby mangos or honey mangos), which are extra creamy and as sweet as honey. Get them when they're in season from February (the perfect time to escape the cold with a vacation-ready frozen cocktail) to early August (when you'll need something frosty to cool you down). We recommend using a piquant blanco tequila like Cimarrón, which has a horchata-esque flavor that pairs perfectly with the sunshine-colored fruit. When garnishing the cocktail, use Tajín Clásico, a chile-lime salt, to rim the cocktail glass instead of the traditional sea salt. The tangy seasoning gives the cocktail a savory depth, soft heat and flavors akin to one of the best Mexican street snacks: mangonada, a mango popsicle dusted with Tajín, chamoy and fresh lime juice. This recipe makes enough frozen Margarita goodness for two, so split the drink between two giant Margarita glasses (preferably the ones with glass cactus stems). Or, just keep the leftover mix in the fridge and happily sip away knowing that your refill is waiting for you.

Mango Margarita
INGREDIENTS
4 oz

Tequila

2 oz

Lime Juice

1 oz Agave Syrup
1

Mango

1 Cup

Crushed Ice

Tajín Clásico
INSTRUCTIONS
Step one
If using, rim two glasses with lime juice and Tajín.
Step two
Add all remaining ingredients to a blender, and blend until smooth and creamy.
Step three
Divide between two glasses.
Contributed by Supercall