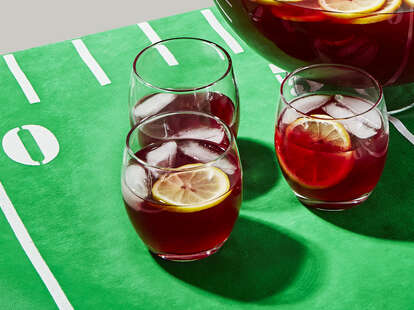 Matthew Kelly / Supercall
A variation on the Fish House Punch, this game day party punch was created with rowdiness and chicken wings in mind. With a full bottle of rum and half a bottle of Cognac (not to mention the addition of two liqueurs) this deceptively easy to drink punch packs a mighty, boozy wallop. Pad your stomach with hot wings and get ready for your party to go down in history as one of the greats. The only downside: Next year, twenty more of your friends will be requesting an invite.
We Must Protect This House Punch
INGREDIENTS
1 750-ml bottle of

Rum

12 oz

Cognac

6 oz

Raspberry Liqueur

2 oz

Maraschino liqueur

3 cups

Sencha Green Tea, chilled

1.5 cups

Fresh Lemon Juice, strained

1 Cup Simple Syrup

Lemon Wheels, for garnish
INSTRUCTIONS
Step one
Brew the tea and chill beforehand.
Step two
In a large vessel, add all ingredients except for the fresh squeezed lemon juice, ice block and lemon wheels. Stir to incorporate. Refrigerate for 24 hours.
Step three
Juice lemons and strain. Add juice to the punch, stir and then garnish with lemon wheels and a large ice block.
Contributed by Supercall