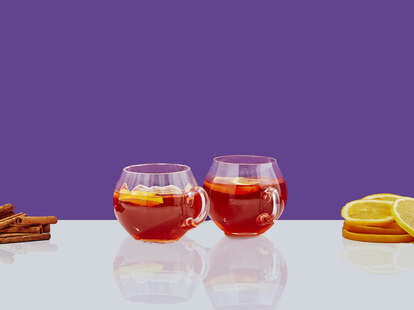 Nearly 300 years ago, George Washington wasn't the only one working magic with liquor at his Mount Vernon home and distillery. His wife, Martha, enjoyed drinking the good stuff as much as she loved entertaining at home. This punch created for Mount Vernon by Dale DeGroff, is an approximation of the recipe America's first FLOTUS may have served during one of the dinner parties at her and her husband's Virginia estate. It's a beautiful amalgam of two types of rum, baking spices and citrus—it's not hard to imagine the lively conversations this rummy punch inspired.
Martha Washington's Rum Punch
INGREDIENTS
3

Citrus

1

Orange, quartered

3

Cinnamon Sticks

6

Cloves

.5 tsp

Spices

4 oz Simple Syrup
4 oz

Fresh Lemon Juice

4 oz

Fresh Orange Juice

12 oz

Boiling Water

3 oz

Rum

3 oz

Dark Rum

Orange Curaçao

Lemon and Orange Wheels, for garnish
INSTRUCTIONS
Step one
In a large bowl, mash the the orange, lemons, cinnamon sticks, cloves and nutmeg, then add the simple syrup, lemon and orange juices.
Step two
Pour the boiling water over the mixture in the bowl and allow to cool.
Step three
Once cool, add the white rum, dark rum and orange curaçao.
Step four
Strain the mixture through cheesecloth into a pitcher or punch bowl.
Step five
Serve over ice in punch glasses and decorate with lemon and orange wheels.
Contributed by