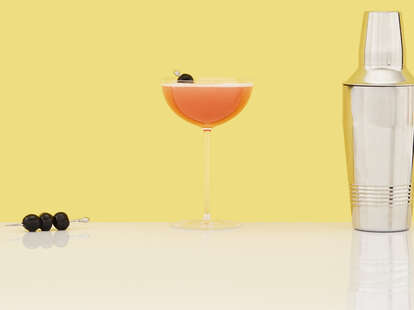 Mary Pickford was more than just a perfect set of ringlets. The Canadian-American silent film star co-founded United Artists, helped kick-start the Academy of Motion Picture Arts and Sciences, and was named an honorary colonel by the U.S. Army. She also inspired this tasty Prohibition Era cocktail, which was created by a bartender at the Hotel Nacional in Havana while Pickford was visiting Cuba (read: escaping the teetotalling United States) with her husband Douglas Fairbanks and friend Charlie Chaplin. It was a real who's who of the silent film elite.
Originally made with equal parts rum and pineapple juice, this updated recipe scales back the juice to let the rum take center stage. An ounce of maraschino liqueur rounds out any edges and gives the cocktail weight and a touch of nuttiness. Though you technically could use store-bought grenadine, which lends the drink its pretty pink color, we highly recommend making your own grenadine at home. It's really easy—it's essentially just pomegranate syrup—and makes for a much, much better and more complex cocktail. As for the cherry garnish, the type you use is up to you. We like a jammy Luxardo cherry because it enhances the maraschino in the cocktail. But if you prefer those bright red candy bombs, more power to you.
Mary Pickford
Mix It Up!
While our recipe calls for the drink to be shaken and strained into a coupe, you can also shake and strain the drink into a rocks glass over ice for a slightly more diluted cocktail. Swap out the cherry for an expressed orange peel if you want your cocktail to have more of a citrusy edge.