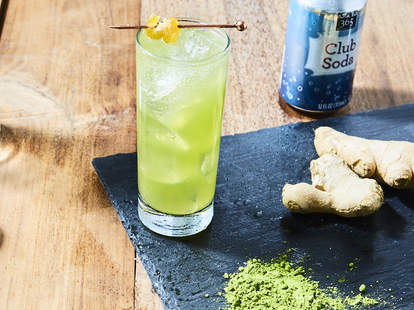 Marisa Chafetz / Supercall
"The 'detox while retoxing' trend has been on the rise in recent years as bars put more health-driven cocktails on the menu," says Torrence Swain, head bartender at Bourbon Steak at the Four Seasons Hotel in Washington, D.C. We can attest to the trend, as we saw more veggie cocktails last year than ever before. In his take on the classic Moscow Mule, Swain swaps sugary ginger beer for fresh ginger juice and doses the drink with an exotic Matcha Pennywort syrup for sweetness. Dry, bittersweet and bubbly—thanks to a topping of club soda—it's a refreshing libation to enjoy whether you're health-conscious or not.
INSTRUCTIONS
Step one
In a 16-ounce Collins glass, build all ingredients, fill with ice and top with soda.
Step two
Garnish with a piece of candied ginger and enjoy.
Contributed by Torrence Swain