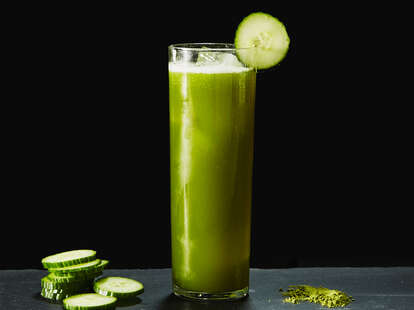 A variation on the Tom Collins, this effervescent sipper uses cold brewed matcha tea, herbal bison grass vodka and oleo saccharum syrup. Infusing matcha powder into ice cold water results in a tea that is refreshing and bright, with the savory depth and flavors of seaweed and kelp, a tangy brininess, and a rich, creamy sweetness on the finish. Easy to prepare, this method of brewing matcha tea requires only ice water, a water bottle and a hard shake.
Matcha Spritz
INGREDIENTS
2 oz

Bison Grass Vodka

6 oz Cold Brew Matcha
.75 oz

Oleo Saccharum Syrup

Soda

Cucumber Wheel, for Garnish
INSTRUCTIONS
Step two
Top with soda water and stir.
Step three
Garnish with a cucumber wheel.
Contributed by Supercall