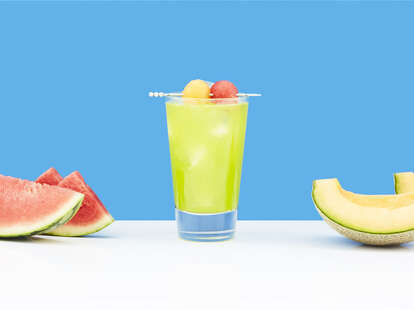 For all you fans of the 1990s sugary cocktail movement, the Melon Ball will certainly become a new favorite. Made with bright green Midori (a Japanese muskmelon-flavored liqueur), vodka and fresh-squeezed orange juice, it's light, sweet and easy drinking. As '90s as it appears, though, the Melon Ball most likely has roots in the 1970s. It was during that equally gawdy era that Midori made its U.S. debut, appropriately at Studio 54. With Midori came the drink's somewhat more famous cocktail, the Midori Sour, as well as other neon green creations like this one.
The key to making a great Melon Ball (or a great pitcher of Melon Balls, which is great for a crowd) is using fresh juice and fresh melon. Our recipe calls for orange juice, which gives the cocktail a slight tang and a ton of bright, citrusy flavor. But others swap out the OJ for pineapple juice. Whichever fruit you choose, be sure to use fresh-squeezed or fresh-pressed juice. It makes a huge difference. And when you're making Melon Balls, don't forget the eponymous garnish: melon balls. You can scoop them out of whatever type of melon you like, but cantaloupe, honeydew and watermelon are the most traditional. For a real show-stopping drink, try garnishing the cocktail with a ball of each type.
Melon Ball
INGREDIENTS
2 oz

Midori

1 oz

vodka

Fresh squeezed orange juice

Cantaloupe, honeydew and watermelon balls
INSTRUCTIONS
Step one
Fill a collins glass with ice. Add Midori and vodka, and top with orange juice.
Step two
Stir to combine. Garnish with various types of melon balls, skewered.
Contributed by Supercall
Mix It Up!
If you're into the idea of a melon-y cocktail, but would prefer something a little more "craft," try
making your own Midori
instead of buying the pre-bottled stuff.