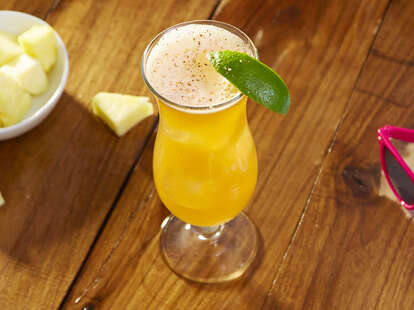 Marisa Chafetz / Supercall
Marisa Chafetz / Supercall
If you dream of stepping out from your private, beachfront villa onto the white Caribbean sand but don't have the time or funds to make it happen, this cocktail is the next best thing. Dubbed Paradise Punch, it tastes like Nevis would taste if you could distill the edenic island down into one glass. "All of the fresh squeezed juices are taken from the island," says Vivian Blanchard, a personal butler and bartender at Paradise Beach Nevis. "And Wray & Nephew Rum is a favorite among the 10,000 locals residing on the island. It's the perfect way to begin your vacation." The addition of Midori melon liqueur gives this punch a unique flavor for which there is no substitute. Do as the islanders do and use fresh-squeezed juices to make this tropical treat as bright and delectable as possible.
Paradise Punch
INGREDIENTS
1 oz

Overproof Rum

1 oz

Midori

2 oz

Pineapple Juice

2 oz

Orange Juice

2 drops grenadine
1 dash

Angostura Bitters

nutmeg

Lime wedge, for garnish
INSTRUCTIONS
Step one
Add all ingredients, save for the garnishes, to a shaker with ice.
Step two
Shake and strain into a hurricane glass filled with fresh ice.
Step three
Garnish with freshly grated nutmeg and a lime wedge.
Contributed by Vivian Blanchard