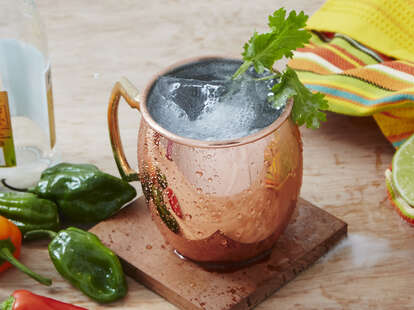 Matthew Kelly / Supercall
This extra spicy take on a Moscow Mule has enough heat to singe your eyebrows. Made with mezcal instead of vodka, it is smoky, earthy and deliciously herbaceous. Its sweat-inducing heat comes from a combination of piquant green chile liqueur Ancho-Reyes Verde and a topper of extra spicy ginger beer (we like Reed's). Just be careful not to breathe in too deeply as you drink it—those spicy bubbles go right up your nose.
Mexi-Cali Mule
INGREDIENTS
1 oz

Mezcal

1 oz

Ancho Reyes Verde

0.5 oz

lime juice

Cilantro Sprig, for garnish
INSTRUCTIONS
Step one
Using a jigger, measure the mezcal, green chile liqueur and lime juice into a shaker tin with ice.
Step two
Step three
Using a Hawthorne strainer, strain the cocktail into a copper mug filled with ice.
Step four
Top with ginger beer and stir with a bar spoon to incorporate.
Step five
Garnish with a sprig of fresh cilantro.
Contributed by Supercall