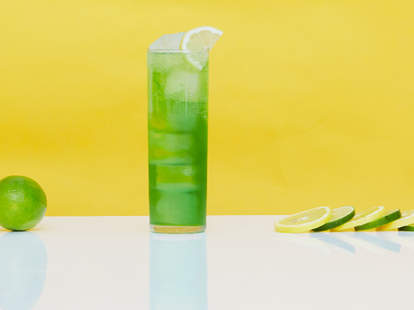 Matthew Kelly / Supercall
No one is going to try to convince you that the Midori Sour is a serious drink—it's a hanger-on from the brightly hued 1970s, with as much gravity as a Bee Gees song. But who cares? Made with neon green Midori (a Japanese liqueur flavored with muskmelon—a honeydew-esque fruit), vodka, citrus juices and soda water, it's as fun to look at as it is to sip. Though the Midori Sour was not the most celebrated Midori cocktail created with the spirit first launched in 1978 (that would be The Universe, which won first prize at the United States Bartenders' Guild competition that year), it has proven to be the Midori cocktail with the most staying power. That's probably due to its simplicity and its striking, neon green hue. Recently, some bartenders like Chaim Dauermann of NYC's Up & Up have started including craft versions of the Disco Era cocktail on their menus, proving that the bright and bubbly drink still has a lot to offer to the cocktailing world.
Before you start playing with your own Midori Sour variations, make sure you master the classic recipe, which is very easy to do. Made with both lime juice and lemon juice (the fresher the better), It's sweet, sour and a downright delicious way to kick off a night. Plus, it looks great. We guarantee it'll have you stayin' alive, stayin' alive, all night long.
INGREDIENTS
1 oz

Midori

1 oz

Vodka

0.5 oz

Fresh Lemon Juice

0.5 oz

Fresh Lime Juice

soda water

Lemon Slice
INSTRUCTIONS
Step one
Pour the vodka, Midori, lemon juice and lime juice into a Collins glass. Add ice and stir well.
Step two
Top with soda water and garnish with a slice of lemon.
Contributed by Supercall