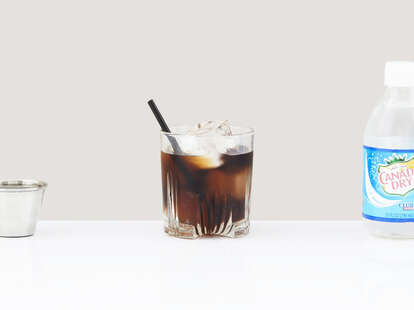 It's hard to say exactly where and when the Mind Eraser originated, but it's safe to assume how it earned its name. Made with vodka, Kahlúa and soda water (or occasionally tonic), the cocktail is remarkably easy to throw back—and potent. While you could mix it together and sip it like any ol' cocktail, you can also layer each ingredient and shoot it down.
Layering a cocktail is not easy, but you can learn to master the technique with a little time and practice. Start with a thin, tall shot or cordial glass—for the Mind Eraser, make sure it can hold at least three ounces. Or, if all you have is a standard one-and-a-half-ounce shot glass, simply cut the recipe in half so you only need half an ounce of each ingredient. Pour the Kahlúa into the glass first because it has the most sugar content and is therefore the heaviest. To add the layer of vodka, place a spoon upside down in the glass, close to the Kahlúa without touching it. Slowly pour the vodka over the spoon. It should settle neatly on top of the Kahlúa. Repeat this step carefully with the soda water.
If you want to switch up the drink, swap out the soda water for cinnamon schnapps to make a Brain Eraser. Better yet, whip up a batch of our DIY Fireball for an even more impressive version of the drink.
Mind Eraser
INGREDIENTS
1 oz

Kahlúa

1 oz

vodka

1 oz

soda water
INSTRUCTIONS
Step one
Add all ingredients to a rocks glass filled with ice and stir to combine.
Contributed by Supercall