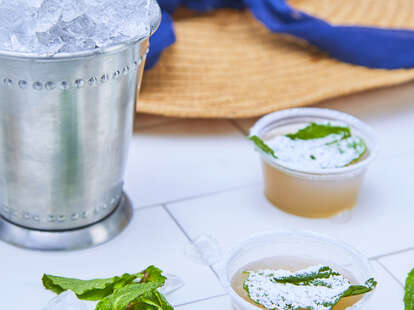 Marisa Chafetz / Supercall
As American as apple pie with cheese on top, the Mint Julep is one of the nation's oldest and best cocktails. Made with bourbon, simple syrup and mint, the Julep is served over crushed ice in an iconic silver cup—which also gives the drink its signature frostiness. But there are no silver cups required when you're making these jiggly Mint Julep Jello Shots. Made with bourbon, creme de menthe and unflavored gelatin, this Jello Shot distills the essence of the Mint Julep into one adorable, extra-wiggly shooter. A mint leaf garnish and dusting of powdered sugar give these shots another layer of minty freshness and an extra bit of sweetness to even out the sharp hit of bourbon.
When choosing a bourbon for your Julep Jello Shot, we find that the best bottle to use is one that's sweet and light(ish) on the booze, like Jim Beam or Four Roses Yellow Label. Unless you want your Jello Shot to be a neon green hue, make sure to opt for a clear creme de menthe (we like Menthe Pastille). Whether you serve these bourbon-y Jello Shots to guests at your Kentucky Derby party, or just make them for yourself when you need a boozy, jiggly pick-me-up, the Mint Julep Jello Shot is the perfect prescription. Get yourself a bottle of bourbon and creme de menthe, and mix up a batch right now.
INGREDIENTS
1 packet

Gelatin

1 Cup

Boiling Water

0.5 Cup

Bourbon

0.25 Cup

Crème de Menthe

0.25 Cup

Cold Water

Mint leaves

Powdered sugar
INSTRUCTIONS
Step one
In a bowl, stir the gelatin and boiling water together until all of the powder is dissolved.
Step two
Stir in the bourbon and cold water and whisk until thoroughly combined.
Step three
Pour the mix into two-ounce plastic shot cups until they are half to three-quarters full.
Step four
Chill two hours, or until the mix is set.
Step five
Garnish with mint leaves and a dusting of powdered sugar.
Contributed by Supercall