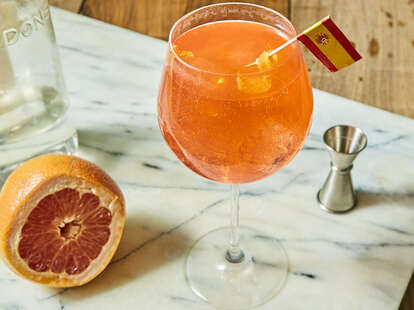 Marisa Chavetz / Supercall
Marisa Chavetz / Supercall
In Barcelona, Bobby Gin is a Gin & Tonic lover's paradise. Airy and comfortable, set on a narrow cobblestone street, the bar offers a menu of G&Ts and will also craft one specifically catered to your tastes. Currently, the bar is taking the classic to the next level with the GinFonk cocktail series. "In the traditional Gin & Tonic, a flavor is added at the end by using a garnish like fruits, spices, etc," says bar manager Alberto Pizarro. "With the GinFonk, we use this idea of adding a flavor by mixing the gin with a liquor and citrus in the glass." The Modernissia GinFonk features Spanish-made Modernessia Gin, goji berry liqueur, Aperol, lemon juice and hibiscus-flavored tonic water. It's bright and citrusy, floral and a little bitter, but undeniably a Gin & Tonic.
Modernessia GinFonk
INGREDIENTS
1.75 oz

Modernessia Gin

.75 oz

Goji Berry Liqueur

1/3 oz

Aperol

.75 oz

lemon juice

7 oz

Hibiscus Tonic Water

Grapefruit Twist
INSTRUCTIONS
Step one
Fill a large wine glass or copa with ice.
Step two
Add all ingredients, including garnish.
Step three
Stir and serve.
Contributed by Alberto Pizarro
Mix It Up!
Hibiscus-flavored tonic water is plentiful in Spain but harder to find in the States. What you can find, though, is hibiscus-flavored tonic syrup (Hella Tonic makes a good one), which you can mix with soda water for a good substitution.