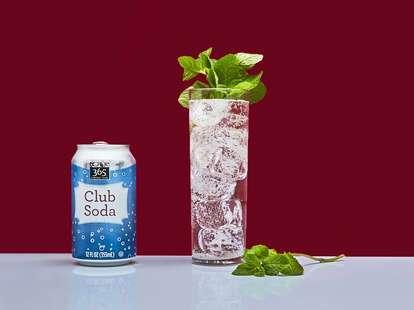 Marisa Chafetz / Supercall
If you're a fan of minty, effervescent Mojitos and are ready to branch out from the traditional white rum, then it's time for you to meet the Mojadita. Made with muddled mint, simple syrup, fresh lime juice, spritzy soda water, and pisco—an unaged Peruvian (or sometimes Chilean) grape brandy—instead of white rum, it is a slightly drier, more sophisticated cocktail with much more of a boozy bite. The sharp, grassy pisco lightens up the Cuban cocktail, giving it a crisp, refreshing edge. But, thanks to the classic combo of mint, sugar and lime, the Mojadita still retains its gulpability. When making the cocktail, opt for a pisco that is dry, floral and fruit-forward, like Pisco Portón, La Diablada or 1615 Mosto Verde Quebranta Pisco.
Mojadita
INSTRUCTIONS
Step two
Add the pisco and lime juice, and shake with ice.
Step four
Add crushed-ice and top with soda water.
Step five
Garnish with a bountiful mint sprig.
Contributed by Supercall