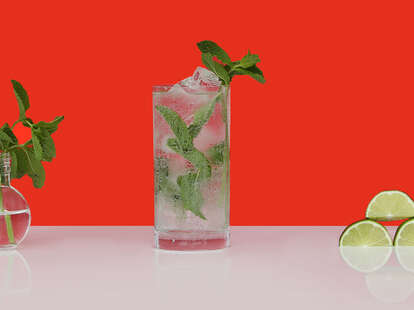 In terms of the Mojito's history, we know it was invented in Cuba and that's about it. The most oft-repeated origin story has the Mojito refreshing the 16th century's most colorful privateer/slaver/admiral/politician Sir Francis Drake. Apparently the captain and his crew were plagued by dysentery and scurvy during their raids on the Spanish New World. In Cuba, they discovered a crude form of rum, lime, sugar and mint and called it a cure (at least for the terrible affliction of sobriety). Like all things regarding colonization of the New World, the reality is likely far more unpleasant. And if you're curious about the Mojito's fabled curative powers, bear in mind that Drake died of dysentery in 1596. History lesson aside, the Mojito is a quintessential warm weather cocktail, an invigorating combination of grog and garden served with Caribbean flair.
Mojito
INGREDIENTS
2 oz

White Rum

.75 oz simple syrup
.75 oz

lime juice

club soda

8

mint
INSTRUCTIONS
Step one
In a shaker tin, muddle the mint leaves and simple syrup.
Step two
Add the rest of the ingredients and shake with ice.
Step four
Add crushed-ice and top with club soda.
Step five
Garnish with a bountiful mint sprig.
Contributed by Supercall
Mix It Up!
In Havana, lemon juice is often used in lieu of lime. If you find our version too sweet, reduce the simple syrup to just 0.5 oz. For complexity and a bit of flair, build the crushed iced up out of the Collins glass and add Angostura bitters to the ice (think of a snowcone).