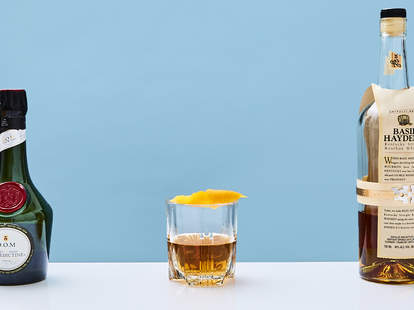 The Monte Carlo is about as close to a Manhattan as Manhattan variations get. The only difference is that this variation swaps sweet vermouth for herbal Bénédictine liqueur, yielding an ever-so-slightly heavier, honeyed, orange-flecked cocktail. With its refreshing lightness and slight bitterness, the Monte Carlo may become your new go-to order for a pre-dinner aperitif. It's languished in relative obscurity since David Embury put it down in print in his 1948 The Fine Art of Mixing Drinks, so while your bartender may not know the Monte Carlo by name, he'll certainly be impressed by your unique call for a Bénédictine modifier in your Manhattan.
INGREDIENTS
2.25 oz

rye

.5 oz

Bénédictine

1 dash

Angostura

1 dash

Peychaud's

Orange Twist (for garnish)
INSTRUCTIONS
Step one
Combine all ingredients in a mixing glass with ice, and stir.
Step two
Strain into a lowball glass.
Step three
Garnish with an orange twist.
Contributed by Supercall