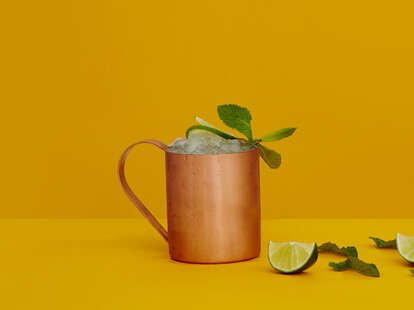 The Moscow Mule was created as the result of a supply-and-demand quandary. During World War II, vodka was about as popular in the U.S. as the Japanese and Germans. Americans just didn't drink the stuff, leaving John Martin of the East Coast-based distributor Heublein sitting on a huge Smirnoff surplus—ironic, considering Smirnoff has been made in America since 1933, after the Bolshevik Revolution ousted the company 15 years earlier. In 1941, Martin visited the legendary Cock 'n Bull on Sunset Boulevard in Los Angeles and griped about not being able to move his vodka stash. The bar's owner, Jack Morgan, told him he could relate. Morgan had gone all in on a proprietary ginger beer no one seemed to want either. And don't get him started on all those copper mugs he'd purchased from a Russian business associate. After the two had thrown back a few more drinks together, a lightbulb went off, and a libation was born. The copper mug has become an icon of the drink, inspiring quite a bit of debate about its merits. While the metallic cup may or may not contribute the distinctive "tinny" taste that many Mule advocates claim to adore, it does give the drink a certain panache. But the other aspects of the drink are equally important, so be sure to choose a high quality ginger beer that will give the cocktail some fizz and spicy kick.
Moscow Mule
INSTRUCTIONS
Step one
Add all ingredients into a glass over ice and top with ginger beer.
Step two
Give it a stir with your bar spoon before serving.
Contributed by Supercall
Mix It Up!
Beyond the basic three-ingredient drink, you can easily customize your Moscow Mule in a number of ways, by swapping out the base for another spirit like rum or mezcal. With a bit more effort, you could even turn your favorite fizzy drink into a Jello Shot.