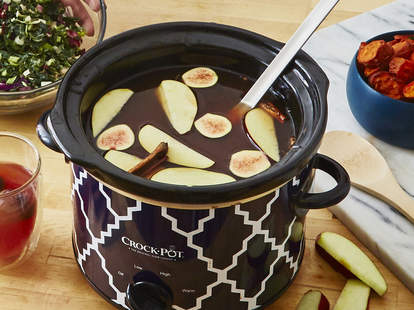 A nod to Highland Park whisky's Norse roots, this modern take on mulled red wine (which is spiked with the brand's Orkney Islands scotch) is named after the Norse goddesses of love, Frigga and Freya. Red wine, apple cider and honey simmer in a Crock-Pot with Highland Park Magnus—a light, sherry cask-aged single malt scotch. Sliced figs and honeycrisp apples soften as the drink heats, while cinnamon sticks and cloves infuse everything with warm spice.
INGREDIENTS
1

Red WIne

1

Scotch

1

Sparkling Apple Cider

3 cups

apple cider

.5

honey

3

figs

1

apple

4

Cinnamon Sticks

4

Whole Cloves
INSTRUCTIONS
Step one
Heat all ingredients in a slow cooker on low for 1-2 hours until warm, and apples and figs are soft.
Step two
Serve warm in mugs.
Contributed by Tonia Guffey