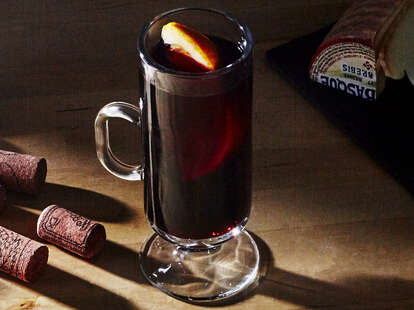 Matthew Kelly / Supercall
Perfect for a party (or a very thirsty twosome), this crowd-sized recipe for mulled wine comes from Youmna Asseily, winemaker of Chateau Biac in Cadillac, Côtes de Bordeaux. Made with a generous slug of Cognac, two full bottles of fruity red wine and plenty of spices (including fresh ginger), it's easy to make and downright delicious. Proof that if you want a wine-tail done right, you have to leave it to a Frenchman.
Vin Chaud au Cognac
INGREDIENTS
2 750-ml bottles

red wine

.5 Cup

Cognac

250 g

brown sugar

lemon zest

orange zest

2

Cinnamon Sticks

2

Star anise

1 inch

spices

3 pinches

nutmeg

1

orange
INSTRUCTIONS
Step one
Mix all ingredients save for the orange slices in a pot.
Step two
Cook on low heat until the sugar is completely dissolved, about 6 minutes.
Step three
Strain and serve hot in heatproof glasses or mugs.
Step four
Garnish with a slice of orange.
Contributed by Youmna Asseily