With so many options for crusts and fillings, baking a pie can seem like a seriously intimidating endeavor. But it shouldn't be! These 10 delicious pie recipes -- with their tasty tricks and simple instructions -- will make you a pie master in no time. There's a reason for the expression!
Recommended Video
Crack Into This Creme Brulee Ice Cream Sandwich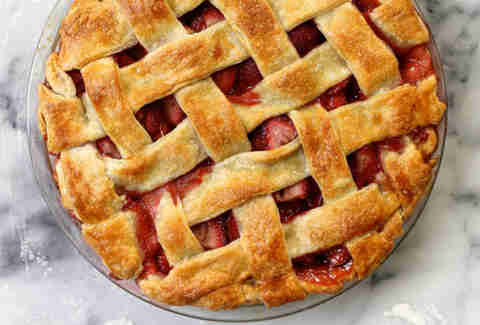 A lattice crust might sound too complicated for the average baker, but with Joy's step-by-step photos and crystal-clear instructions, you'll quickly become a pro. Recipe here.
Key ingredients:
Buttermilk
Brown sugar
Strawberries
Butter
Flour
This sweet and tart recipe keeps the focus on the bursting raspberries, which look pretty damn delectable. Get it here!
Key ingredients:
Sugar
Creme de cassis
Pie crust
Raspberries
Cornstarch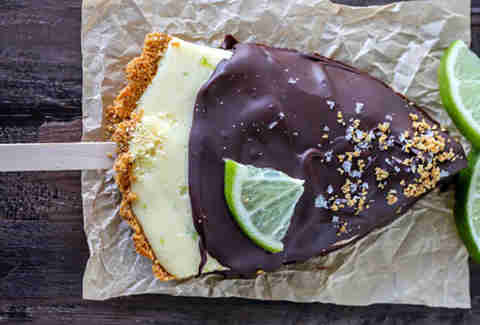 Circular pies are a thing of the past thanks to these personalized Key lime treats, served on a stick for extra summery vibes. Make 'em here.
Key ingredients:
Graham cracker crumbs
Egg yolks
Sweetened condensed milk
Semisweet chocolate
Key lime juice
Does it get any more summer than s'mores? We think not. Gooey, chocolatey results this way! 
Key ingredients:
Graham cracker crumbs
Heavy cream
Semisweet chocolate
Marshmallows
Eggs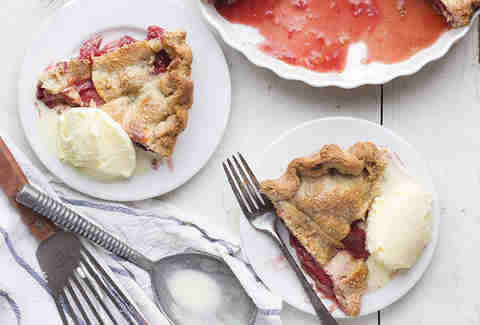 We're digging the sweet strawberry-cinnamon filling and peanut butter-infused crust. The pie of your PB-lovin' dreams is right here.
Key ingredients:
Flour
Peanuts
Strawberries
Peanut butter
Butter
Combine cream cheese, sweetened condensed milk, and frozen pink lemonade concentrate into a deliciously refreshing pie enveloped in a buttery graham cracker crust. Make it here.
Key ingredients:
Graham cracker crumbs
Cream cheese
Sweetened condensed milk
Frozen pink lemonade
Cool Whip
We're suckers for the boozy, bourbon-laced filling, plus it's ready for the oven in just 30 minutes. Bake it here!
Key ingredients:
Almond flour
Flour
Eggs
Cherries
Blueberries
Bourbon
Once you're past the hurdle of pitting all those cherries, this sweet and tangy recipe is a total breeze. Add the amaretto whipped cream to cut the tartness of the fruit. It's here!
Key ingredients:
Flour
Butter
Cherries
Amaretto
Almond extract
Skillet-sautéed blueberries are baked in a traditional crust for a uniquely rustic pie experience. Fragrant thyme adds an unexpected, but not unwelcome note. Recipe here.
Key ingredients:
Butter
Blueberries
Fresh thyme
Egg
Flour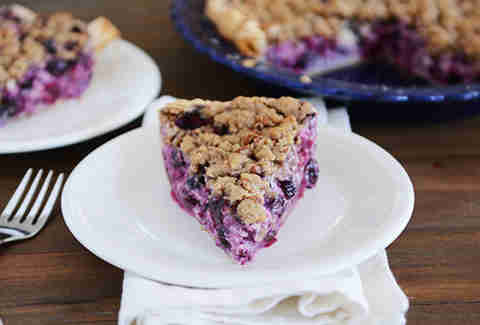 The blueberry and cream filling is decadent enough before you add a buttery pecan streusel topping. Pie heaven's here!
Key ingredients:
Sour cream
Egg
Blueberries
Chopped pecans
Unbaked pie crust

Christine Fischer is a freelance writer dedicated to a strict diet of Champagne, cookies, and the occasional pizza. Follow her on Facebook and Instagram.