You could spend three hours torturing yourself with the aroma of homemade chili cooking on the stove. Or you could just heat up a can of the pantry staple in minutes and top it off one of these 10 ways. With so many options -- chorizo! Pozole! Chocolate and chipotle! -- you can have beef-and-bean chili every night this week and not get bored.
Classic
If you're a traditionalist, top it off with shredded cheddar, chopped red onions, cilantro, jalapeños, and sour cream. Finish it off with a recitation of the "Pledge of Allegiance."
Chorizo and cheese
When beef alone isn't enough, pan-fry loose Mexican chorizo until crisp. Pair it with shredded sharp cheddar to temper the spice and add some creaminess, and chopped scallions for another layer of flavor.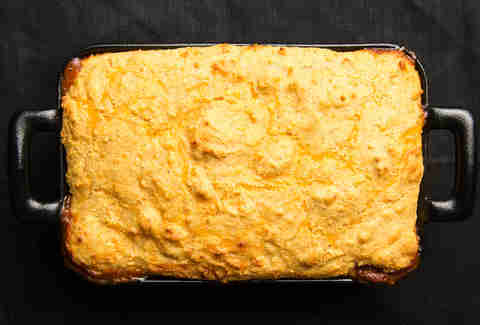 Cornbread
Whisk together 1 cup cornmeal, 1 tablespoon flour, 1 ½ teaspoons baking powder, ½ teaspoon cinnamon, and ½ teaspoon salt. Add ½ cup milk, 1 egg, 1 tablespoon vegetable oil, and ½ teaspoon honey and stir until combined. Pour chili into a small baking dish, sprinkle shredded cheddar on it, and spread cornbread evenly on top. Bake at 425℉ for 20-25 minutes.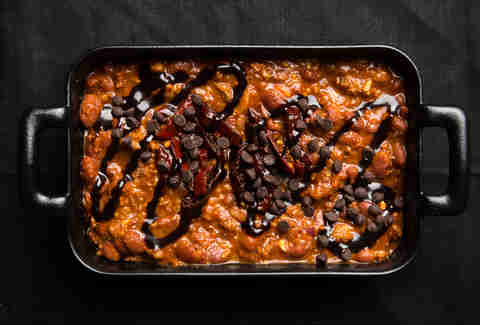 Chipotle and chocolate
Don't knock it 'til you try it! Chocolate and chiles add a ton of depth to chili. Mince two chipotle peppers in adobo sauce and stir in with the chili. Once warm, stir in an ounce of dark baking chocolate.
Cincinnati Five-Way
Buh-bye meatballs, we're having our spaghetti with chili tonight! Finish off the noodles-and-chili combo with shredded cheddar cheese and chopped white onions.
Pozole
Pozole is a traditional Mexican stew. While you're picking up cans of chili at the store, grab a can of white hominy, too. Put the two together and add chopped onions and a squirt of fresh lime juice.
Fajitas
For those who can't choose between steak fajitas and beef chili, stir-fry sliced red onions and bell peppers with salt and freshly ground black pepper until slightly softened. This will give your chili some color and crunch.
Maple sour cream
Chili sometimes begs for a little sweetness. A dash of maple syrup will do it, but spiced sour cream keeps it from being cloying. Stir maple syrup into the chili while it's heating up. Toast cumin seeds in a pan until fragrant and combine with sour cream.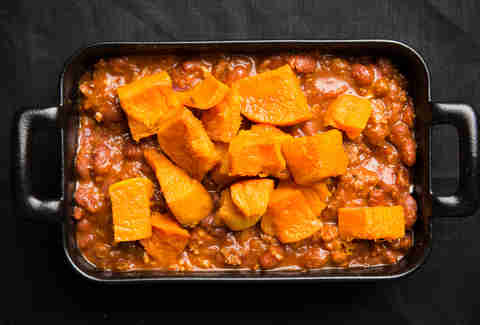 Butternut
To evoke the feeling of homemade chili, drizzle cubes of squash with olive oil and roast in a 400-degree oven for 20 minutes. Stir it in. The texture will go a long way.
Cauliflower
Rather than cheese, try cauliflower! It's much better for you and helps bulk up chili. Blend 1 to 2 cups of cauliflower florets in a food processor and stir it into the chili as it's heating up.
Sign up here for our daily Thrillist email, and get your fix of the best in food/drink/fun.
Perry Santanachote is Thrillist's recipes editor. Follow her at @perrysant.