Whether you nibble it from left to right or gnaw on it all the way around, there's no wrong way to eat corn on the cob. So to celebrate this seasonal veggie, we've rounded up 10 mouthwatering corn on the cob recipes, all insanely tasty no matter what direction you eat it in.
The corn's natural sweetness shines, but a touch of chipotle seasoning and Parmesan cheese keeps things interesting. Recipe here.
Key ingredients:
Butter
Chipotle seasoning
Parmesan
Kick lightly charred corn up a notch with a strong beer and Sriracha-based sauce. Try it here!
Key ingredients:
Unsalted butter
IPA beer
Garlic powder
Sriracha
Cilantro
Make your sweet corn even sweeter with a simple honey butter that whips up in under a minute. Recipe here.
Key ingredients:
Unsalted butter
Honey
Olive oil
Parsley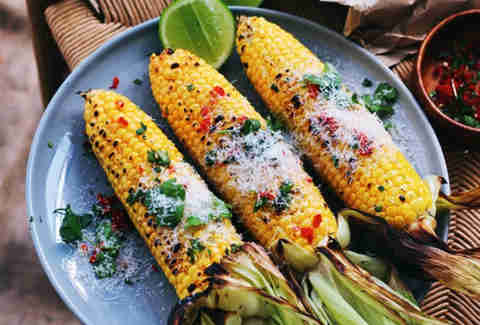 A touch of fancy truffle oil elevates backyard barbecue corn, and the red chilli and fresh coriander (aka cilantro!) bring a bright flavor and color to the mix. Recipe here.
Key ingredients:
Truffle oil
Fresh coriander
Parmesan cheese
Lime zest
Red chilli
As if the bacon butter (simply crispy bacon rolled into soft butter) wasn't enough to get us drooling, creamy cotija cheese and a char-grilled finish takes these kernels to the next level. Then repurpose that bacon butter. Grill it here!
Key ingredients:
Butter
Bacon
Cotija cheese
Cilantro
This Italian-inspired corn relies on a simple homemade basil vinaigrette and Parmesan cheese. Make it here.
Key ingredients:
Basil
Shallot
Garlic
Rice wine vinegar
Parmesan cheese
What's better than one grilled corn recipe in one link? FIVE of them, obviously. Try out classic street, bacon-cheddar, pizziaola, garlic Old Bay, and/or toasted sesame styles here!
Key ingredients:
Bacon
Mayo
Feta
Old Bay
Tomatoes
Grilled corn is smothered in a sweet and spicy Asian-inspired sauce of Sriracha, mayo, Dijon mustard, and honey. It's here!
Key ingredients:
Mayo
Sriracha
Greek yogurt
Dijon mustard
Honey
While it grills, the corn is brushed with a dressing of soy paste, sweet chili sauce, and Sriracha, which creates a caramelized effect. It's a staple of Taipei night markets. Recipe here.
Key ingredients: 
Soy paste
Sweet chili sauce
Sriracha
Lime
Garlic
Boiled corn doesn't have to be boring -- smother it with roasted garlic aioli and a mountain of Parmesan cheese! Recipe here.
Key ingredients:
Garlic
Mayo
Parmesan cheese
Lime juice
Olive oil

Sign up here for our daily Thrillist email, and get your fix of the best in food/drink/fun.
Christine Fischer is a freelance writer dedicated to a strict diet of Champagne, cookies, and the occasional pizza. Follow her on Facebook and Instagram.