10 Outrageous Ice Cream Recipes You Can Make Without a Maker
If you're new to making homemade ice cream, there are a few things you need to know. Firstly, some are cream-based, which yields lighter, icier ice cream, and some are custard-based, which means egg yolks are introduced for a smoother consistency. Both textures, however, are a little tricky to achieve without help from a specialized ice cream maker. But fear not, home cook! There are many different ways to make the cold-and-creamy stuff.
From a frozen banana base to the old-fashioned Epsom salt system, it's totally possible to make excellent homemade ice cream without a machine. Here are 10 distinct recipes to get you started.
Banana, Nutella, vanilla. That's all you need. Get the recipe!
Frozen banana provides an excellent base for a dairy-free ice cream. Recipe here!

The trick to that breakfast roll flavor is melted butter. Get the recipe.
With an avocado base, it's actually not half bad for you, which means portion control is a non-issue. Place the mixture in a piping bag for a perfect swirl. Recipe here.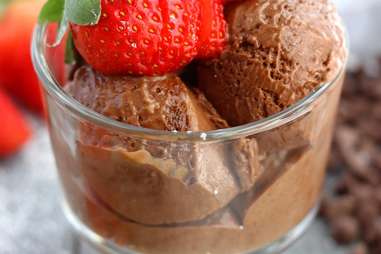 If the idea of protein powder in your ice cream doesn't deter you, this is a super-healthy, and super-quick, ice cream fix. Eat a gallon -- it's totally acceptable. Here's the recipe.

With butterscotch sauce, melted peanut butter, and chopped Reese's, this is some pretty effing indulgent ice cream. Get it here!
Pudding mix gives this ice cream its epic consistency, and crushed Oreos make it extra luxe. Get the recipe!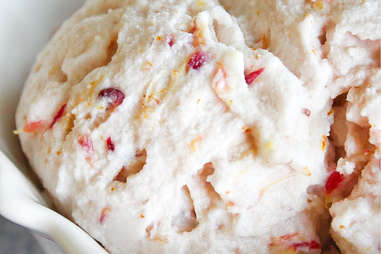 No ice cream maker, no problem. Try it the old-fashioned way with a plastic bag inside another plastic bag of Epsom salt and ice. Shake until it hardens. That's what she said... about this recipe.

You gotta wait six hours for the mixture to freeze, but you can trust Martha. Easy ice cream this way.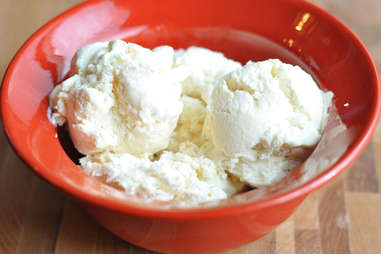 Sweetened condensed milk yields a creamy consistency without the churning. Check it out here.
Christine Fischer is a freelance writer dedicated to a strict diet of Champagne, cookies, and the occasional pizza. Follow her on Facebook and Instagram.