10 Hot and Buttery Breakfast Sandwich Recipes
A savior to the hangover, a hot, buttery, and melty breakfast sandwich is all you need after a big night out. They're versatile -- interpretative, even -- and all you need to get goin' just enough is some combination of eggs, meat, and cheese, plus a carb-vehicle to carry them all in. So here are 10 breakfast sandwich recipes, because as perfect as the microwaved deli bacon, egg, and cheese is, there is always room for improvement.
A drizzle of honey isn't typically associated with an egg sandwich, but it's integral to counterbalance the heat from the hot chili pepper paste. Recipe here.

The French Laundry restaurateur's BLT interpretation comes complete with Monterey Jack and four strips of bacon. Get the recipe!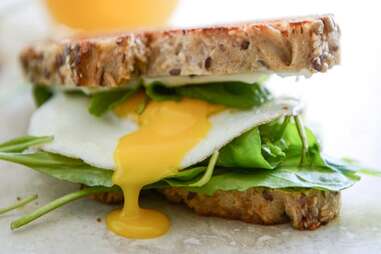 The key here is cooking the Gruyere down into a sauce instead of just using humdrum slices. Recipe here.
Breathe new life into Eggo waffles by using them as bread. There isn't an egg, but that doesn't mean you can't add one. Click, click, click!

Caffeinated bacon and sweet maple syrup add a whole other dimension to a scrambled-egg roll. Recipe here.

It's basically an elevated take on the time-tested diner variety. The eggs are soft and the cheese is melted. Find the recipe here.

It's everything you thought a corned beef, sauerkraut, and Swiss cheese egg sandwich hybrid could be. If you've ever actually thought about that. Here's the recipe!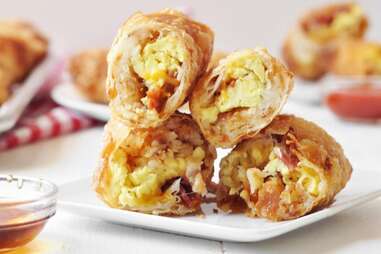 These break all sandwich rules mostly because they aren't sandwiches. Recipe here.
Tofu can actually be cooked so that its texture's pretty damn close to a scrambled egg's. Healthy breakfast here!

Microwave an egg in a ceramic ramekin to sandwich perfection in under 60 seconds. Recipe here.
Carrie Dennis is an associate editor for Thrillist and will eat anything if it comes on toast. Follow her on Twitter: @CarrrieDennnis.