10 Ways to Amp Up Boxed Macaroni and Cheese for $10 (Plus 1 for $11)
Boxed macaroni and cheese is a rite of passage. If you didn't eat it as a young 'un, you're probably not American.
I'm pretty sure it was the first thing I ever cooked on my own, with my tiny apron, and my tiny step stool, and my tiny fire extinguisher. And even then, I messed around with the ingredients. Growing up in a sparsely stocked kitchen (yeah, we were poor) meant making do with what we had. Sure, there was a #failplate or two (Spam + Twix comes to mind), but things came out pretty good for the most part. Even though I'm rich now (compared to 7-year-old Perry) and don't have to eat Kraft dinner, I still do, I just eat more. Yes, that was a reference to the Barenaked Ladies... so I guess Canadians get it, too.
A little note on how we did this: We calculated the cost of each recipe by how much it'd be to purchase the minimum number of individual ingredients (not cost per serving). Because alas, we can't buy only four tablespoons of butter or an ounce of milk at the supermarket. Good news is, you'll have enough butter and milk to make more of these for way less than 10 bucks.
Enough money talk, let's get to the fun stuff.
Apple Pie Mac 'N' Cheese ($10.00)
Cook one box of regular macaroni and cheese. Mix in 1 can of apple pie filling. Line the inside of a small casserole dish with 1 pie crust. Fill it with the goods. Top with the other pie crust (refrigerated crusts come in twos). Crimp those crusts together to seal, and bake at 425℉ for 20-25 minutes, until crust is golden.
Break The Bank: Add 1 cup shredded sharp cheddar to the filling for $3 more.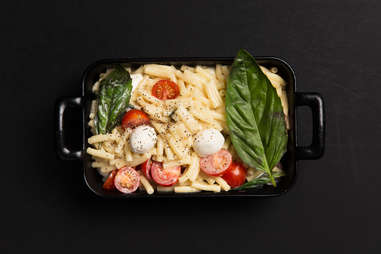 Margarita Mac 'N' Cheese ($9.73)
Cook 1 box of white cheddar mac. Toss in ½ cup halved cherry tomatoes and ¼ cup chopped fresh basil.
Big Spender: Add ¼ pound mozzarella balls for $4.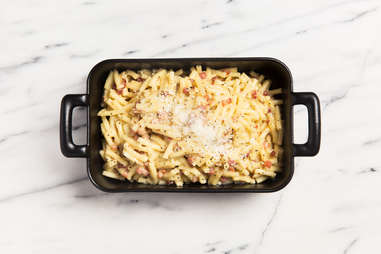 Carbonara Mac 'N' Cheese ($9.75)
Boil the pasta from 1 box white cheddar mac. Cook 4 ounces of cubed pancetta in a skillet over medium heat until crisp. Whisk together 2 eggs and the cheese packet. Drain pasta, return to pot. Add pancetta and all its rendered fat. Pour the egg/cheese mixture into the pasta, whisking quickly until the sauce thickens. Season with lots of freshly ground black pepper.
Shell Out: Whisk ¼ cup grated pecorino romano into the eggs along with the cheese packet for $4.
Mac 'N' Cheese Of The Sea ($10.15)
Cook 1 box of regular mac. Stir in 1 can of tiny shrimp and 2 teaspoons Old Bay seasoning. Top it off with Goldfish crackers.
Shorty, You On A Boat: Mix in ¼ cup mascarpone for extra tanginess; just $5.

French Onion Mac 'N' Cheese ($9.64)
Cook 1 box of white cheddar mac. Warm up 1 can condensed French onion soup (don't dilute it with water). Divide the macaroni and cheese among bowls. Top each with a ladle of soup and a handful of croutons.
Haute Upgrade: Grate ¼ pound Gruyere and generously mound the cheese on top of each bowl. Stick the bowls under the broiler until cheese is browned and bubbling. The fiver you'll spend is worth going hungry the next day.

Cheeseburger Mac 'N' Cheese ($10.52)
Cook 1 box of regular mac. In a large skillet over medium-high heat, brown ½ pound lean ground beef. Drain excess fat, stir in ½ cup diced tomatoes, ¼ cup ketchup, and 1 teaspoon onion powder. Season to taste with salt and pepper. Combine the beef mixture with the macaroni and cheese.
Reuben Mac 'N' Cheese ($10.49)
Cook 1 box of white cheddar mac. Layer it in a dish with ¼ pound corned beef and sauerkraut.
It's Payday: Sandwich it all between slices of Swiss and rye for $6 more.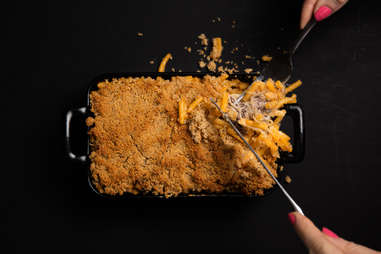 Philly Cheesesteak Mac 'N' Cheese ($11.00)
Preheat the oven to 350°F. Cook 1 box of regular mac. In a large skillet over medium heat, melt 2 tablespoons of butter. Add 1 diced onion, season with salt and pepper, and cook until tender, about 5 min. Spray a small baking dish with cooking spray. Spread half of the macaroni and cheese in the baking dish. Spread ¼ pound of roast beef over the pasta, followed by the onions, and the rest of the macaroni.
Melt another 2 tablespoons of butter in the skillet. Stir in 1 cup of breadcrumbs and mix until incorporated. Spread the crumbs on top of the mac 'n' cheese and bake for 25 minutes or until browned.Binge: Add a layer of sliced provolone over the beef, before the onions. It's only $3.50. You can find that in your couch cushions.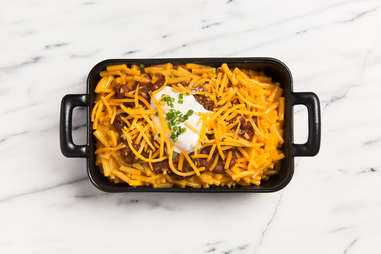 Chili Cheese Mac ($10.13)
Cook 1 box of regular mac. Top with 1 can chili (heated up) and ¼ cup shredded sharp cheddar.
Dress To Impress: Sour cream and chives turn this humble combo into the life of a party, and for only $4.

Beer Mac 'N' Cheese Soup ($9.93)
Melt 4 tablespoons of margarine or butter in a large saucepan over medium-high heat. Add 1 tablespoon flour and whisk for 1 minute. Stir in ½ cup milk, the cheese packet, and 1 teaspoon garlic powder; stir until combined. Pour in a 12-ounce bottle of pale ale, 1 cup water, and 1 chicken bouillon cube. Bring to a simmer and cook, stirring occasionally, for 10 minutes or until mixture is slightly thickened.
Boil macaroni until al dente, drain, and add to the soup. Season with cayenne, salt, and pepper to taste.
Go On A Bender: For just $3 you can add 1 cup shredded sharp cheddar to the soup, which is the food equivalent of adding gold to base metal.
Mac 'N' Artichoke Cheese Dip ($8.25)
Cook 1 box of white cheddar mac. Heat up 1 cup of frozen or fresh artichoke dip and mix it into the macaroni and cheese.
Treat Yo' Self: Grate ¼ pound of gouda over it for the ultimate $5 indulgence.