10 Ways to Up Your Campfire Cooking Game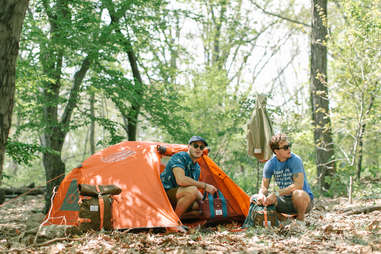 1. Licking the meat's for you, not the flames
"I cringe a bit every time I see a flame touch meat," says Ben Jones, Executive Chef at Montana resort ranch Paws Up. "The biggest mistake you can make over a campfire is either cooking your meat too close or too far away." The fix: go for slow heat rather than high heat. When you can hold your hand above the coals for ten seconds and no more, you should be set. "Every fire's different; you have to learn to recognize hotspots."

2. Get wild with wood
The best part of campfire cooking? Your food should take on the sweet aroma of hardwood rather than store-bought charcoal and lighter fluid. "Start with a pile of apple or cherry wood." The idea is that you're really smoking rather than grilling. "Forty five minutes over cherry wood will impart even corn on the cob with a smoky sweetness." The chef's shortcut for smoky flavor: hickory wood. "Throw it on before making a New York Strip and you'll have a steak that doesn't taste like Kingsford."
3. Leave the hot dogs behind and go exotic
The meat you serve should be as exotic and wild as the place you're cooking it. "At Paws Up we love exotic meats -- Elk steaks, lamb ribs, veal porterhouses and what have you." A fatty cut paired with a sweet, acidic barbeque sauce (that you make ahead, at home) makes a killer combo. Here's one of Jones's fireside favorites:
Ben Jones' Lamb Ribs in Balsamic Huckleberry BBQ Sauce
INGREDIENTS:
2 12 oz cans tomato paste
32 oz diced fresh tomatoes, no seeds
1 large yellow onion, small diced
1 cup red wine vinegar
6-8 garlic cloves, minced
1 jalapeno pepper, minced with seeds
½ cup smoked paprika
½ cup fresh ground coriander
1 tablespoon cayenne pepper
1 tablespoon smoked salt
2 tablespoons fresh ground black pepper
1 cup molasses
1 cup brown sugar
1 cinnamon stick
1 teaspoon ground cloves
1 tablespoon ground cumin
¼ cup yellow mustard
1 cup water
3 cups fresh or frozen huckleberries
¾ cup balsamic vinegar
DIRECTIONS:
Sweat the onions, garlic, jalapenos and diced tomatoes in a heavy bottom 8qt pot.  Use butter or canola oil. 
Add tomato paste and the remaining spices, seasoning and water. Bring BBQ Sauce to a simmer and cover turn on very low, (nearly off setting) stirring every 15-20 minutes to ensure no scorching occurs. 
Cook for a minimum of 3 hours.  If the sauce looks like it is drying out too much and ½ a cup of water at a time as needed.
Using an emulsion stick blender puree the sauce until smooth, but before you do, remove the cinnamon stick. Once smooth, taste!
Lamb ribs: Remove any sinew on the outside of the ribs with a sharp knife. Marinate the ribs in the finished BBQ Sauce for 1 hour at room temperature.  After marinating, cook over the open flame in a ripping hot, minimally oiled cast-iron pan for 5-6 minutes on each side (4 on each side if you're using a lid).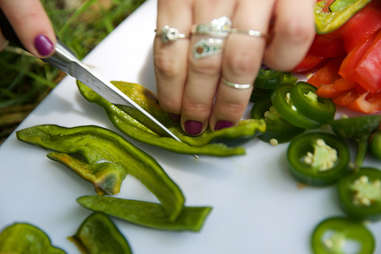 4. Do the prep work at home
While you can impress your friends with classy and complex campfire fare, no one wants to wait for you to find a flat surface to chop herbs on, or mix a marinade. "Do as much as you can at home -- seasoning your meat at home, wrapping it in tinfoil, having it ready to go. Simple sides are great." Like… a baked potato prepped with oil, salt, pepper, wrapped in foil and thrown in the fire.

5. Get rocked
Fort Worth, Texas-based Chef Tim Love, of Lonsome Dove Western Bistro, barbecues with hard rock. "Wrap a dense rock with foil and place it deep in your glowing coals. After letting sit for 20 minutes, use the rock for an awesome sear on quick-cooking proteins like shrimp, scallops, or sliced fish. It gets a great smokey flavor without even a need for the grill."
6. Stay calm
Take Love's advice and keep your cool. "Remember to have patience when cooking over a camp fire – you want to cook over coals, not flames. Every time the fire touches the food, you get the flavor of burning fuel. You want the flavor to be smoke, not fuel."

7. Try a whole fish
Even if you don't catch it yourself, there's a lot of wild satisfaction to be had in serving a whole fish -- though it's easy to do with Tim Love's go-to recipe for camp and beach bonfire cookouts:
Tim Love's Campfire Redfish En Papillote
INGREDIENTS:
1 whole red fish (can be made with a variety of fish; find your favorite)
broccolini, trimmed
1 clove garlic, sliced thin
1 poblano pepper, julienned
1 red onion, julienned
1 red bell pepper julienned
1 anaheim chili, julienned
fish rub
olive oil
mint
salt
parchment paper
DIRECTIONS:
Cut the parchment paper into a large square. Drizzle a little olive oil in the middle and place the fish on top. Season with the fish rub, then add the veggies and peppers. Season the veggies and pepper with the fish rub and fold the paper around all to form a tight pouch. 
Place the pouch in a sauté pan with some oil and cook for approximately 15 to 20 minutes, depending on the size of the fire. Do this with the lid closed to circulate the grill smoke and flavor and to create an oven-type environment. Once cooked, mix the mint and salt and serve it as a garnish along with some lime wedges.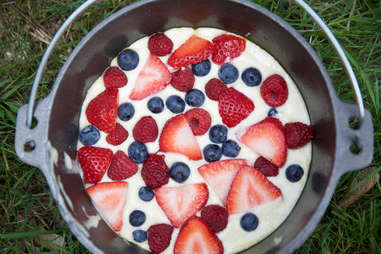 8. You don't have to make smores…
A great way to impress? Firing up a killer dessert. Andrew Cooper, a one-time Boy Scout and the Executive Chef at Four Seasons Resort Rancho Encantado in Santa Fe makes a rustic campfire berry cake that will blow your friends' minds, but doesn't require an absurd level of culinary skill. Here's how:
Andrew Cooper's Rustic Campfire Berry Cake
INGREDIENTS:
4 tablespoons unsalted butter, softened
1 cup all-purpose flour
½ teaspoon baking powder
¼ teaspoon baking soda
¼ teaspoon salt
¾ cup sugar
1 large egg
½ cup low-fat buttermilk
1/2 cup blueberries
1/2 cup strawberries (sliced)
1/2 cup raspberries
½ cup brown sugar
½ teaspoon cinnamon
3 tablespoons all-purpose flour
1 tablespoon butter, softened
DIRECTIONS:
Pro tips: Use a low fire and a metal sheet to block wind. Measure ingredients ahead of time and put them in plastic bags.
In a small bowl, whisk together flour, baking powder, baking soda and salt in a small bowl. Set aside. Beat butter and sugar until fluffy, using a whisk. Add the egg and combine.  Slowly add the flour, then some buttermilk and then, more flour.
Scrape the batter into a cast-iron pan that has been sprayed with baking spray. Spread the batter to the edges and then dot the top with berries. In another bowl, mix together the topping ingredients.
Using a fork, sprinkle the topping over the cake batter. Place the skillet off to the side of the fire and cover with aluminum foil and bake for 30 minutes -- or until it begins to brown, and a toothpick comes out clean. (You can take the foil off for the final ten minutes of cooking.) 
In a small bowl, whip heavy cream and sugar. If you desire more berries over the top, warm a sauté pan on the fire, add two teaspoons of sugar, and place one and a half cups of assorted berries in with the sugar and gently warm. The berries will release water and become soft and tender.
9. But when you do…
And if you do make s'mores? Don't do it like an amateur, do it like Tim Love: "Before you stick your marshmallow over the fire, make sure you place the graham cracker, with the chocolate on top, next to the fire for three or four minutes. It'll melt the chocolate slightly and crisp up the cracker."

10. Embrace natural law
"No matter how much you prepare, there's always a randomness to cooking around a campfire," says Ben Jones, who frequently cooks in the wild for dozens of ranch guests. "Something will happen: a folding table will collapse, you'll be surrounded by wild animals, who knows? But you will definitely remember the experience."