11 Absurdly Delicious Chicken Wing Recipes
Fried, baked, or charred on the grill, wings are never not a good decision. So with that in mind, we rounded up the best chicken wings from around the web, and ended up with some seriously tasty results. From deep-fried and bacon-wrapped to a sweet-and-spicy baked version, we've got you covered with these 11 chicken wing recipes. Grab a beer and some Wet-Naps!
Bake 'em on a cooling rack on a sheet pan for an extra-crispy finish before they get sauced up. Find 'em here.
The smoky grill flavor pairs well with the mustard-soy marinade and Asian pineapple glaze. Get them here!
Our recipes editor Perry Santanachote whipped these sweet-and-savory wings up for the Super Bowl as an ode to the classic New England sandwich -- the Fluffernutter. Be ready for different, but be ready for them to also be very, very good. Get the recipe here.

So they're not technically wings, as they use breast meat, but that's the secret of all boneless "wings." (You're exposed, Chili's!) A buttermilk and panko crust gives 'em an extra-textured surface for all the sweet and sour sauce to cling to. Recipe here!
Do fried chicken nuggets wrapped in bacon and dunked in BBQ sauce sound like your kind of wing? Obviously. They're here.
We made these for the Super Bowl because Marshawn Lynch loves Skittles. If you don't love the color, the taste might just surprise you. Recipe here.

These four-ingredient wings are baked in the oven and have just four ingredients. Four ingredients. That's it -- only four ingredients. You know you want to know what the ingredients are...
The title says it all -- baked, drenched in a bourbon Buffalo sauce, and freakin' delicious. Find 'em here.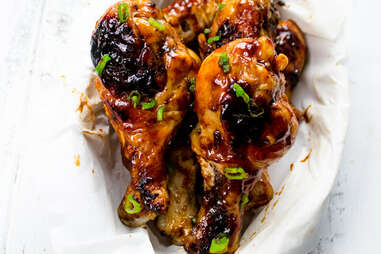 So, yeah, they're drumsticks, but you can use the marinade on wings! You can and you should. Recipe here!

Four hours in the slow cooker make these the juiciest damn wings you've ever had. Find them here!
When done right, oven-baked wings are juicier and crispier than the fried variety. They're over here!
Christine Fischer is a freelance writer dedicated to a strict diet of Champagne, cookies, and the occasional pizza. Follow her on Facebook and Instagram.