11 Super-Sexy Things You Can Do With Sriracha
Anthony Humphreys/Thrillist
Rich and spicy, Sriracha -- that chili pepper, vinegar, garlic, and sugar sauce (but you already knew that, right?) -- goes with and enhances effing everything. But aside from simply topping already-made dishes (and our list of the best hot sauces on Earth), it's also a pretty killer ingredient, particularly in these 11 hot, hot recipes below.
Typically, the chunks of tuna in this Hawaiian dish are simply soy sauce-marinated, but Sriracha mayo is a way better option. Recipe here.

The tender dark meat is so much more than just a vehicle for consuming the Sriracha honey lime glaze. But it's also mostly a vehicle for consuming the Sriracha honey lime glaze. Recipe here!

The number of ingredients and flavors is a bit disconcerting, but somehow, someway, cashews, ginger, soy sauce, coconut milk, honey, carrots, sesame seeds, fettuccine, and Sriracha find a way to be harmonious. Get the recipe.
Top that ole standby with Sriracha guacamole. Click, click, click!

Turns out Aunt Jeanne's spinach artichoke dip is dope as a grilled cheese. Get the recipe.
The subtle heat from the Sriracha is a perfect foil to the sweetness of the sugary corn syrup. Recipe here.

Skip the pie crust by using individual Mason jars with cross-hatched puff pastry hats. Recipe here!
These taste a whole lot less healthy than they actually are. Here's the recipe.
Sriracha's not the star, but the spicy note kicks this miso broth up a notch. Recipe here.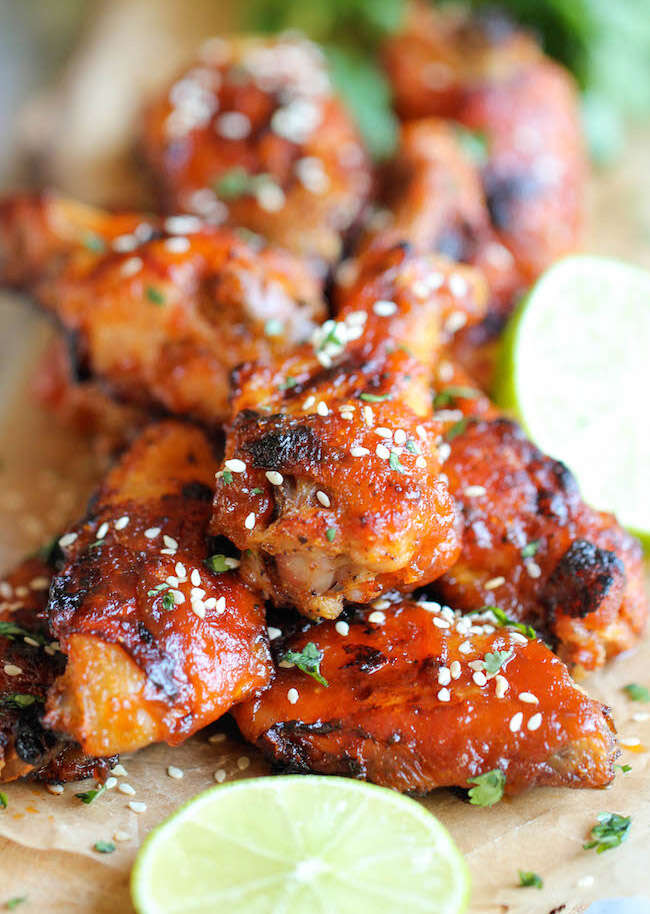 Bake, then broil 'em for a fried texture without the deep fryer. Recipe here.

Jellied cranberry sauce and Sriracha in the same pot sounds horrific, but when that pot is a Crock, anything's possible. Get the recipe!
Carrie Dennis is an associate editor for Thrillist and is a little underwhelmed by Sriracha, if she's being honest. Don't hurt her on Twitter: @CarrrieDennnis.