11 Boozy Milkshakes to Help You Survive August
Drew Swantak/Thrillist
Drew Swantak/Thrillist
Let's face it: a milkshake is just a way to eat double the amount of ice cream in half the time. The only trouble is the brain freeze, but thankfully, we have a cure. It's booze, and it works every time. We rounded up 11 of our favorites so you can spend the rest of boozy milkshake season not moving from that kiddie pool you bought to help you survive August.
This creamy milkshake is like finding the pot o' gold at the end of the rainbow -- and discovering it's filled with marshmallow vodka! Get the recipe here.
Key ingredients:
Marshmallow vodka
Lucky Charms marshmallows
Vanilla ice cream
"Booze" doesn't always have to mean the hard stuff. This shake sweetens up red wine with raspberry sauce and vanilla ice cream. The recipe here.
Key ingredients:
Red wine
Raspberry sauce
Vodka whipped cream
Vanilla ice cream
The only thing more American than apple pie and milkshakes is booze made WITH apple pie and milkshakes. Find patriotism here.
Key ingredients:
Vanilla ice cream
Hard apple cider
Apple pie
Sweet, salty, and boozy. What more could you want? The recipe's right here.
Key ingredients:
Frangelico liqueur
Chocolate-covered pretzels
Vanilla ice cream
Vodka whipped cream
Imagine spilling an Irish coffee into your Oreo Blizzard. Delicious happy accidents this way.
Key ingredients:
Kahlúa liqueur
Oreos
Vanilla ice cream
Police Chief Wiggum's wet dream. And who can blame him? Milkshake porn here.
​Key ingredients:
Cake donuts
Grand Marnier
Vanilla ice cream
Strawberry jam
McDonald's was missing one major ingredient in its Shamrock Shake -- moonshine. Get the boozy version here.
Key ingredients:
Moonshine
Vanilla bean ice cream
Peppermint extract
Depressed about that diet you're on? Drink this. You'll forget all about it. The high-sugar, high-fat, high-alcohol recipe is here.
Key ingredients:
Coconut ice cream
Malibu rum
Girl Scouts Samoas cookies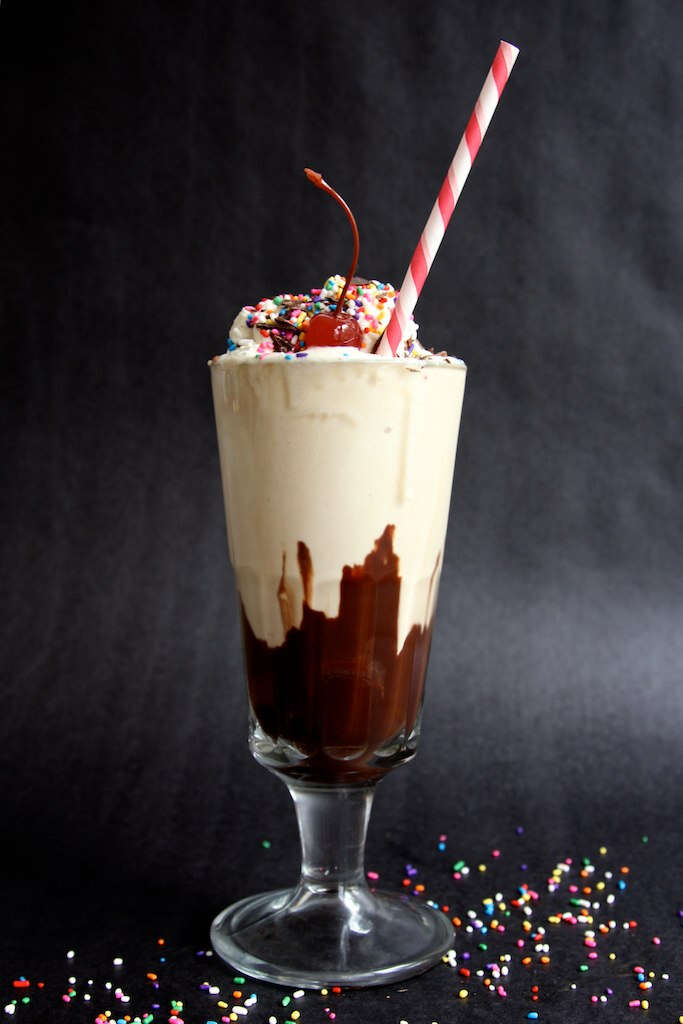 Can't all happy hours be this much fun? Imbibe here.
Key ingredients:
Hot fudge
Bourbon
Vanilla ice cream
The ultimate shake from your childhood, all grown up. Instructions here.
Key ingredients:
Whiskey
Malted milk powder
Chocolate ice cream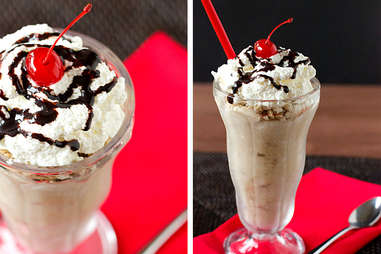 A boozy shake with a buzz. Get the chilled coffee cocktail recipe here.
Key ingredients:
Coffee ice cream
Kahlúa liqueur
Vodka

Sign up here for our daily Thrillist email, and get your fix of the best in food/drink/fun.